Lightly sweetened pumpkin scones filled with rich and flavorful cinnamon chips.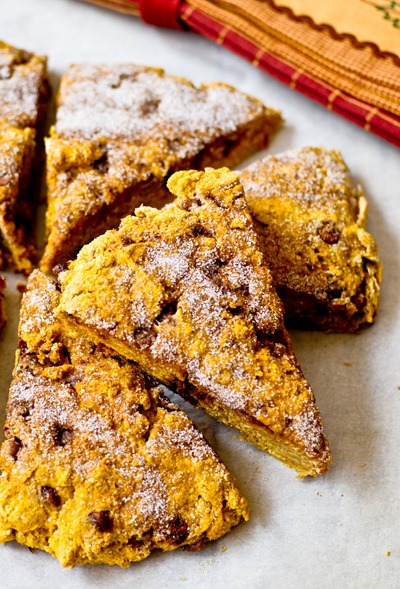 I haven't had many weird pregnancy cravings, but there were a few times that I could have killed for a scone from this bakery.  I don't know what it is about them that is so good, but they are insanely addicting.  I think it has to do with that lightly sweetened carb effect.  Just enough sweetness to keep the cravings coming.  Anyway, it was high time I got into the kitchen to make my own.  This recipe calls for white whole wheat flour and only half a stick of butter.  There also isn't any heavy cream in them so they really are a slightly better-for-you choice than the typical scone.
These pumpkin scones were so easy to make; the food processor did most of the work (actually, getting the food processor out of my pantry was the hardest part).  Other than that, you just knead the dough together for a minute by hand and you are ready to bake.
The result? A light but hearty scone full of pumpkin and spices. Hello, Fall!

Cinnamon Chip Whole Wheat Pumpkin Scones
Lightly sweetened pumpkin scones filled with rich and flavorful cinnamon chips.
Ingredients
Dough:
270g (~1¾ cup) white whole wheat flour
135g (~1 cup) all-purpose flour, plus extra for kneading
90g (~7 tablespoons) granulated sugar
10g (2 teaspoons) baking powder
2g (1/4 teaspoon) baking soda
2g (1 teaspoon) ground cinnamon
½g (¼ teaspoon) ground nutmeg
2 ½g (1/2 teaspoon) salt
57g (4 tablespoons) cold butter, cubed
55g (1 large) whole egg, at room temperature
240g (1 cup) canned pumpkin (NOT pumpkin pie filling)
60 milliliters (1/4 cup) cold milk (I used almond milk)
5 milliliters 1 teaspoon vanilla extract
95g (3/4 cup) cinnamon chips
Cinnamon Sugar Topping
18g (~1½ tablespoons) granulated sugar
2g (1 teaspoon) ground cinnamon
Instructions
Pre-heat oven to 425 degrees; line baking sheet with parchment paper and set aside
In a large bowl, whisk together pumpkin, milk, egg and vanilla; set aside
In a food processor with blade attachment, pulse to combine flours, sugar, baking powder, baking soda, cinnamon, nutmeg and salt
Add butter and pulse just until mixture is crumbly
Stir contents of food processor and cinnamon chips into wet ingredients
Use your hands to knead the dough together for a minute or two just until smooth; do not overwork the dough
Press the dough into an 8-10 inch circle on prepared baking sheet
Mix together topping and sprinkle dough with cinnamon sugar mixture
Cut dough into 8 wedges and bake for 15-17 minutes or until a knife or toothpick comes out clean
Place on a wire rack to cool before serving

Note: This post contains affiliate links.