Sometimes I think my brain has hit capacity and I can not learn or remember anything else.
Things like the day of the week and date are too much to keep track of.  All week this week I thought it was the day before.  On Tuesday I thought it was Monday, on Wednesday I thought it was Tuesday, and I still keep thinking today is Wednesday.  Maybe I'm just hopeful that I can will the week to last a little bit longer so that I have more time to get my work done?  Yeah, crazy thoughts.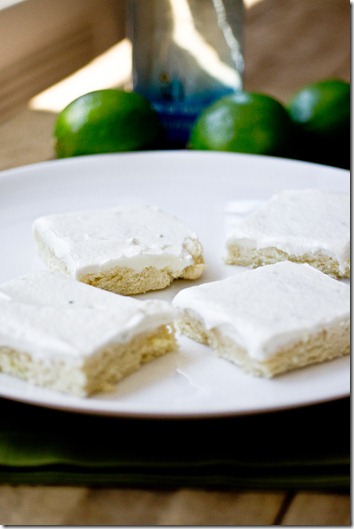 And for some reason every day I have checked the calendar to figure out if it is still April or if we are on May 1st, 2nd or 3rd.  Oh, and this is all the while knowing that Cinco de Mayo is this Saturday.
Come on Lauren, put two and two together!  Well, good news for you- I may not have my head on straight these days when it comes to the calendar, but I was smart enough to realize I should bake something for Cinco de Mayo.  It isn't a holiday I usually pay much attention to, but my sister is having a Cinco de Mayo housewarming party and I figured I better come prepared.
For someone who isn't a huge fan of citrus desserts (as you know, I just recently got over my aversion to lemon), I surprisingly fell head over heals for this recipe.  Maybe it is that the lime flavored cookie bars are flavored just enough or maybe it is the creamy cream cheese frosting slathered over top.  Oh, or could it be the tequila in the frosting?  Whatever the reason, these cookie bars are hard to resist.  Head over to Fox for the recipe!