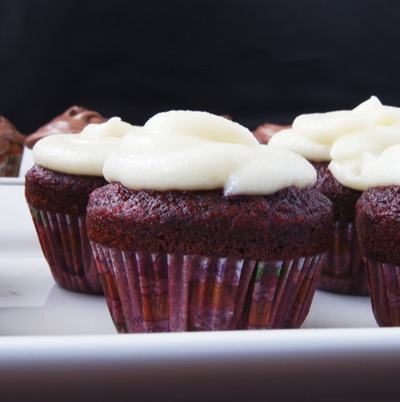 A few months ago, I was offered the chance to review a cupcake magazine.  Yes, a cupcake magazine!  How could I say no to that?
Well, I finally got around to making some cupcakes weeks and weeks later.  Not sure why I waited so long.  Maybe because I'm just so obsessed with cookies I can't help myself but forget the cupcakes.  It is a shame, too, because cupcakes have a place in my love of desserts.
Well my reason surely was not for a lack of inspiration.  Cupcake Heaven is a colorful magazine full of over 100 recipes and photos to accompany every one.  Other than a little bit of confusion over some baking terms (the magazine is based out of the UK), I enjoyed baking from it.  There are a ton of bookmarked pages for me to try in the future, but the first recipe I had to try was their red velvet cupcake.
Given my love of red velvets it is actually shocking that I've never made my own before.  This recipe worked out nicely and I made them into minis which is always more fun.  Also, rather than topping them with traditional cream cheese frosting, I went with mascarpone to give them a little bit of a more sophisticated touch.  We served these cupcakes at our housewarming party and they added such a nice color to the dessert display.  When Matt took leftovers to work, these were the first of a variety of desserts to disappear.
Oh, and want to know an embarrassing secret?  I used to not like cake.  As in really dislike it so much that I'd request a brownie, cookie cake or ice cream pie for every birthday as a kid.  My poor icing-loving mother would be forced to concede.  And if you can believe it, not only did I dislike birthday cake, but I hated icing.  Not sure when things turned around, but these days whenever I eat cake I feel the need to make up for those lost years and eat extra frosting.  It is my way of apologizing to my former self for that self-deprivation.
[print_this]
Mini Red Velvet Cupcakes with Mascarpone Frosting
Makes 22-24 mini cupcakes
Cupcake Ingredients:
1 cup all-purpose flour
1 teaspoon baking soda
2 tablespoons cocoa powder
4 tablespoons (1/2 stick) unsalted butter, softened
3/4 cup granulated sugar
1 large egg, lightly beaten
1/2 cup buttermilk (low fat is fine)
1 teaspoon vanilla extract
1 tablespoon red food coloring
To Prepare Cupcakes:
Pre-heat oven to 350 degrees
Spray a mini-muffin pan with cooking spray or line it with paper cupcake liners
Sift together flour, baking soda and cocoa; set aside
In a large bowl, beat butter and sugar with an electric mixer until light and fluffy
On low speed, beat in eggs and half of flour mixture
Beat in buttermilk, vanilla and food coloring
Stir in remaining flour mixture just until combined, do not overmix
Pour batter into prepared cupcake tin (I used a cookie dough scoop, one scoop per cup)
Bake cupcakes for 12-14 minutes or until a toothpick comes out clean; set aside to cool
Frosting Ingredients:
8 ounces mascarpone cheese at room temperature
4 ounces reduced fat cream cheese at room temperature
1 cup confectioners sugar
To Prepare Frosting:
Beat mascarpone and cream cheese together on high speed until light and creamy
Beat in sugar until mixture is smooth
Spread or pipe frosting onto cooled cupcakes and serve
Cupcake recipe from Cupcake Heaven Magazine
[/print_this]
Did you have any weird taste preferences as a kid?
[pinit]