Rich and fudgy chocolate cookies filled with caramel and dark chocolate chips and seasoned with smoked sea salt.
Are you still adding to your cookie baking list for the holidays? I hope so, because these babies are very deserving of a spot.  The cookie itself is ultra rich and like a fudgy brownie in the center.  Outside there is a slice crisp around the edges.  To top that off, the flavor of the chocolate is dark and almost sinful but balanced with sweet caramels and flaky smoked sea salt.  And by the way, they are pretty easy too.  They bake up consistently EVERY time I make them.  And bonus, you don't have to chill the dough at all. These cookies will be ready for your enjoyment within an hour from start to finish.  If you are making big batches for holiday gifts, just double the recipe below!
Smoked Sea Salt Chocolate Fudge Caramel Cookies
Rich and fudgy chocolate cookies filled with caramel and dark chocolate chips and seasoned with smoked sea salt.
Makes:
~2 ½ dozen cookies
Ingredients
113g (1/2 cup) unsalted butter
170g semi-sweet chocolate, roughly chopped
200g unsweetened chocolate, roughly chopped
160g (~1 cup + 3 tablespoons) all-purpose flour
2g (3/4 teaspoon) baking powder
2g (1/2 teaspoon salt)
150g (~3 large whole) eggs at room temperature
215g (~1 cup) granulated sugar
235g (~1 cup, packed) light brown sugar
10 milliliters / 2 teaspoons vanilla extract
227g (1 cup) semi-sweet or dark chocolate chips
160g (1 cup) caramel bits
Instructions
Pre-heat oven to 350 degrees; line baking sheets with parchment paper and set aside
Place semi-sweet and unsweetened chocolate with butter in a microwave-safe bowl
Microwave the ingredients for a minute and stir; microwave again for 30-second increments until everything is almost melted; stir the remaining lumps until smooth (alternatively, you can melt the butter and chocolate in a heavy duty pop over medium heat stirring constantly); set aside
In a medium bowl, whisk together dry ingredients (flour, baking powder, and salt) and set aside
In the large bowl of a stand mixer, combine eggs, sugars and vanilla; beat on high speed for about 5 minutes or until mixture is light and pale in color
Reduce the speed of your mixer and add in melted chocolate
When that is well-combined, stir in flour mixture but do not over-mix; stir in chocolate chips and caramel bits
Use a large cookie dough scoop and place dough on a baking sheet lined with parchment paper, 1-2 inches apart; lightly sprinkle top of cookie dough with smoked sea salt
Bake cookies for 12 minutes and set aside on a wire rack to cool
Notes
Recipe can be doubled
Store cookies at room temperature up to 5 days in a ziplock bag or freeze for up to two months
Yes, they are as good as they look.

This post contains affiliate links.
You might also like:
Salted Caramel & Peanut Oatmeal Cookies
Fudgy Mocha Brownies with Espresso Sea Salt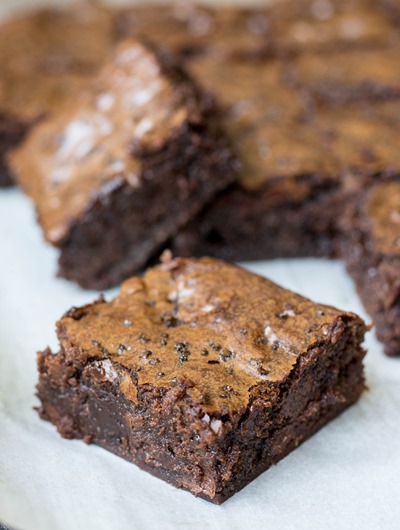 Sweet and Salty Toll House Pie