Do these brownies look gooey enough to you?
They did to me too…
…at 8:30 this morning.
What, you don't eat brownies for breakfast?  Yeah, me neither.  I actually eat a wonderfully healthy breakfast every morning; think yogurt, oatmeal, fruit and peanut butter in some combination or another.  It is actually my favorite meal and I'm always a little sad when it's over.
But back to the brownies.  I made this evil baked good last night (sorry, I'm not usually that mean to my desserts).  I woke up this morning ready to cut and photograph them to find out that about 75% of my work was underbaked….. uhoh.
I started cutting the brownies and found that the fudgey inside was getting stuck on the side of the knife.  So I did what any normal person would do, I tasted them.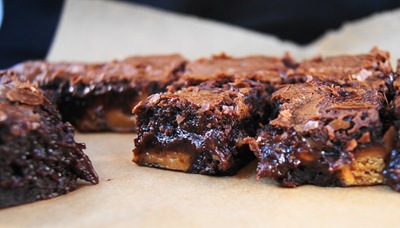 And then I tasted them again.
And then a taste turned into a slice and into another slice…. and before you know it more brownies than I care to admit had disappeared.  Not my finest moment.  But hey, at least I can vouch for the recipe!
[print_this]
Peanut Butter Caramel "Baked Brownies"
Ingredients
 1 1/4 cups all-purpose flour
 2 tablespoons dark unsweetened cocoa powder (use a good one like Valhrona)
 1 teaspoon salt
 11 ounces bittersweet chocolate chips or dark chocolate coarsly chopped (I used 60% cocoa)
 1 cup, 2 sticks, unsalted butter cut into slices
 1 teaspoon instant espresso powder
 1 1/2 cups granulated sugar
 1/2 cup packed light brown sugar
 5 large eggs at room temperature
 2 1/2 teaspoons vanilla, separated
 1 7-ounce bag caramel candies
 3 tablespoons creamy salted peanut butter
Cooking Directions
Pre-heat oven to 350 degrees
Grease a 13×9 pan lined with foil; set aside
Whisk together flour, cocoa and salt in a medium bowl; set aside
Place large heat-proof bowl over a pot of simmering water; in that bowl combine chocolate, butter and espresso powder
Stir mixture until completely melted and turn off burner
Leaving the bowl over the pot of water, whisk in sugars
Move bowl to counter and once at room temperature, whisk in 3 eggs
Whisk in remaining eggs and 2 treaspoons of vanilla, do not overbeat
Gently fold in flour mixture until just combined
Pour brownie batter into prepared pan and set aside
In a microwave-proof bowl, combine caramels, peanut butter and 1/2 teaspoon vanilla
Microwave for 1 minute and stir; microwave for additional 30-second increments until melted, stirring in-between
Drop spoonfulls of caramel mixture over brownie batter
Use a knife to swirl caramel through brownies; Don't worry about it looking pretty, the caramel will sink into the brownie and that is ok
Bake for 30-35 minutes or until a knife comes out clean being careful not to overbake
Notes:
I found the brownie recipe on Apples and Twinkies; it is originally from Baked: New Frontiers in Baking by Matt Lewis and Renato Poliafito
Caramel filling from Sticky, Chewy, Messy, Gooey cookbook
I baked the brownies for 25 minutes but I think 30-35 minutes would result in a perfectly baked brownie
[/print_this]
Have you ever eaten dessert early in the morning?