Ever since I saw Lori's Chocolate Cheesecake Cake, I have been dreaming of making something that could satisfy my desire to lock myself in a room with the cake and a fork.
And while the last thing I need is an entire cake on my hands (oh wait, I do have an entire cake in my freezer… er…), cupcakes just seem so innocent.  Individual portions, easy to share with friends, harder to eat all at once since you have to unwrap each one… you get the drift.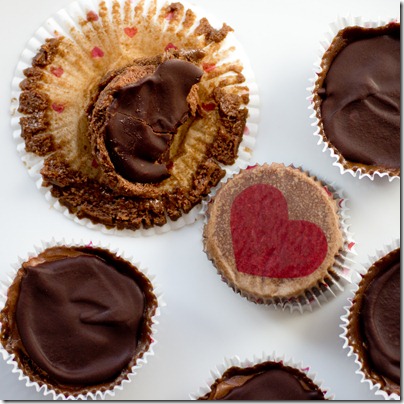 Well, unfortunately, or fortunately, these cupcakes are anything but innocent.  Light chocolate cake, creamy and mousse-like chocolate cheesecake and a hard chocolate glaze, well, you get my drift.
So if you want to find a husband, get laid be the husband of the year, or turn your children into perfect angels, you might want to make a batch of these not-so-innocent cupcakes.
Chocolate Cheesecake Cupcakes
Makes 24 cupcakes
Ingredients:
Cake Layer:
3 ounces semi-sweet chocolate
6 tablespoons unsalted butter
3/4 cups granulated sugar
1 x-large egg
1 teaspoon vanilla extract
1 1/4 cup all-purpose flour
1/2 teaspoon baking soda
1/8 teaspoon salt
3/4 cups water
Cheesecake Layer:
1 8-ounce packages light cream cheese softened at room temperature
3/4 cups granulated sugar
1 x-large egg
1 tablespoons all-purpose flour
1/2 teaspoon vanilla extract
6 ounces semi-sweet chocolate
2 tablespoons unsalted butter
Glaze:
3/4 cup semi-sweet chocolate chips
3 tablespoons unsalted butter
1 tablespoon light corn syrup
1/4 teaspoon vanilla extract
Directions:
Pre-heat oven to 350 and line 24-cupcake tins with foil or paper cupcake liners
Prepare cake layer; microwave choc and butter in a bowl in 30-second increments stirring in-between until butter and chocolate are completely melted
Stir sugar into melted choc mixture until well blended; beat in eggs one at a time with a whisk
Beat in vanilla
Add 1/2 cup of flour, baking soda and salt and mix well
Add remaining flour alternating with water (starting and ending with flour) stirring in-between each addition just until smooth
Pour into prepared tins, ~2 tablespoons of batter per cup, and bake ~5 minutes or until cake layer is set but still wet
Reduce oven temperature to 325 and prepare cheesecake filling; beat cream cheese with an electric mixer until light, creamy and lumps are gone (about 5 minutes)
Add granulated sugar and combine on medium-high speed well until light and creamy
Beat in egg, on medium speed
Stir in flour
Add vanilla extract and salt and beat until mixture is thick and creamy
Melt chocolate chips and remaining 2 tablespoons of butter in the microwave using the same method as above with 30-second increments; mixture will get very thick
Add chocolate to the cheesecake filling and combine thoroughly
Pour chocolate batter over cake layer and bake for 6-8 minutes or until cheesecake is set
Once cupcakes are cool, prepare glaze; combine chocolate chips, butter and corn syrup in a small pot over low-medium heat and stir constantly until mixture is completely melted
Stir in vanilla and remove from heat; pour glaze over pie
Chill cupcakes in fridge for at least 2 hours and until ready to serve; they will keep in the fridge for a few days
Inspired by Recipe Girl, cake layer from Baker's, glaze from All Recipes