While my favorite part of travelling is exploring a new city through its food, I love getting some physical activity in the form of a long hike with gorgeous views almost just as much.
Well, after eating pancakes like this, it is kind of necessary.  I'm actually fairly new to hiking, but I really do love it.  It can be physically challenging, but it is also the best form of free therapy.  Fresh air, vitamin D, and a couple of hours to just think or talk about life.  Oh yeah, and take endless photos.
Lately when we have been planning our trips, we look for a couple of hikes to go on and try to make sure at least one of them is somewhat long and somewhat challenging.  This particular hike on the Iron Mountain Trail was perfect for us.  I think it took us about 2 1/2 hours or so.  On our previous trip we did a 4-hour hike where towards the end, we got a little antsy.
Unfortunately my photos don't even do it justice, but it was pretty cool to be able to see San Diego from the top of the mountain.  I actually wish we had done this hike again while we had the chance!
Pancakes and eggs benedict apparently were the perfect hiking fuel, but afterwards we wanted something fresh and light.  Matt was on a mission to eat as many fish tacos as possible on the trip and thanks to a recommendation via Twitter, we knew we needed to try out El Pescador Fish Market in La Jolla.  On this visit (it was so good we went back later in the week), Matt had fish tacos (duh) and I had an incredibly fresh seafood-topped salad.
Matt probably won't appreciate me sharing this, but he actually said that if he could eat like this all the time at home, he probably wouldn't eat red meat.  Shh, don't tell him I told you.
California, I love you.
And speaking of fish tacos, Kathy had told me that we needed to check out Las Olas while we were in town.
And if you can believe it, this was the view from our table.
This actually ended up being a perfect early dinner for us.  We stopped at Las Olas on our way back from Disneyland (yes, we went there!), just in time for sunset.
The fish tacos weren't quite as good as El Pescador's…
…but crossing the street after dinner for this was unbelievable!
I only wish I had my tripod with me, I couldn't help but take a billion photos as the sun went down.  How do people get to live here (and why don't I)?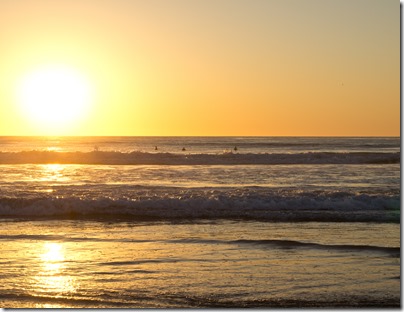 What to Do and Where to Stay in San Diego, Part 1