Yes, you are at the right place.  This is still Keep It Sweet Desserts and I still prioritize baking over any savory production in the kitchen, but sometimes I need to get a little creative with mealtime.
In case you are wondering, I'm still working off the cookie weight (as I like to call it) from December.  Turns out cookies for lunch, snack and dinner for one month straight without even looking at the gym just didn't work out so well.  Don't worry, I didn't completely give up cookies.  That is unrealistic for so many reasons, but I do try to limit myself to a few a week.  That combined with lots and lots of green vegetables has me finally feeling just a little bit better about myself.  Four months later.  It's about time!
So when I got a package from California Raisins and OXO that challenged me to make a fantastic appetizer, I decided to make something healthy that would be a great summer appetizer for entertaining or even double as an entrée for a light dinner.  I didn't realize that a quarter cup of California Raisins is considered a single serving of fruit, what an easy way to get some nutrients into your meal!
This challenge definitely took me out of my element! I cook on a regular basis, but never with the expectation of sharing a recipe with others.  Honestly, most of our dinners are pretty repetitive because I get too lazy to think of new dishes to make.  Really, it was good for me to be pushed to make something other than roasted veggies, kale chips, or vegetarian lasagna.
My goal, and what I think I achieved, with this dish, was to get a nice balance of sweet, savory and a touch acidic along with a variety of textures.  Crunchy asparagus, chewy wheat berries, creamy feta cheese, you get the picture.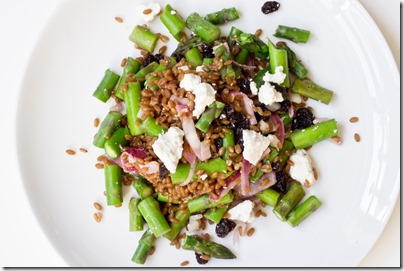 Asparagus salad with Wheat Berries, Raisins and Pickled Onions
Active kitchen time (including pickled onions and wheat berries): 15 minutes Total prep time (including pickled onions and wheat berries): 1 hour 15 minutes
Makes:
~7½ cups; Serves four as appetizer or serves two as a main course
Ingredients
1½ cups asparagus cut into ½ inch pieces blanched and lightly tossed with salt and pepper (do not overcook, you want the asparagus to be nice and crisp)
1 cup cooked wheat berries (see below for details)
½ cup pickled onions (see below for details)
⅓ cup California Raisins
2 ounces good quality feta cheese
Instructions
Cut prepared pickled onion slices in half or quarters (half if you used a small onion, quarters if you used a large onion)
Place blanched asparagus pieces, wheat berries, pickled onions, raisins and feta in a large bowl; lightly toss
Serve immediately to eat warm or store in fridge and eat cool or at room temperature; best eaten same day
Asparagus salad with Wheat Berries, Raisins and Pickled Onions
Makes:
~1/2 cup pickled onions
Ingredients
1 cup water
½ cup apple cider vinegar
1 tablespoon granulated sugar
½ tablespoon table salt
1 small red onion or ½ large red onion, thinly sliced
Instructions
Whisk together water, vinegar sugar and salt until sugar is dissolved
Place onion in a sealable jar; pour vinegar mixture over onions and cover for one hour
Can prepare onions up to 2 weeks in advance if sealed jar is stored in refrigerator
Notes
Source:
Bon Appetit
Prep time: 5 minutes, cook time: 1 hour+
can be made up to two weeks in advance
Wheat Berries
Makes:
~1 cup cooked wheat berries
Ingredients
½ cup (uncooked) wheat berries, rinsed and drained
2 cups water
¼ teaspoon salt
Instructions
Bring wheat berries, water and salt to boil in a medium-sized heavy duty saucepan
Once boiling, reduce to a simmer over low heat and cover for one hour; stir occasionally
Once done, wheat berries should have absorbed most of the water; remove from heat and store covered in refrigerator up to two days before using
Notes
Can be made up to two days in advance