This past Saturday, Matt and I actually had a few hours with nothing on the agenda and I actually had energy, shocking!  So I finally experimented with something I've been wanting to try forever, macarons!
I've loved macarons since I first tried them at the famous La Duree in Paris almost six years ago.
(Oh to be 22….)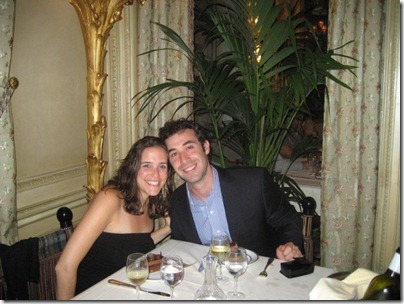 Since then, I've tried a range of not-so-good specimens to just perfectly light and crisp shells sandwiched with creamy decadent fillings (this girl's macarons are not a joke!).
Famous for their difficulty and challenges, I was terrified that my first attempt would be a failure. However, when I saw Annie's step-by-step instructions for a fail-proof Italian method, I knew I had to try it.  Plus, Matt said he would help so I knew there was another person to help make some judgment calls.
To keep things simple, I just used made a plain shell. I really wanted to get the hang of a basic recipe before playing around with it and potentially messing with the structure.  Since I had some basic chocolate buttercream on hand, it worked for the filling. Next time, however, I'll definitely try something more exciting like red velvet, peanut, or S'mores (or one of the other bazillion flavors I have pinned).  I would also prefer a lighter swiss meringue buttercream instead.  I think it would complement the macaron texture better.
All in all, I was thrilled with a pretty successful first attempt!  I think it helped that there was almost no humidity and I really took my time.  While I am clearly not an expert after that, I thought I'd share some tips that I used and / or will use going forward.
Tips for Making Macarons:
Equipment
Definitely make sure you have a kitchen scale and candy thermometer, this is the kind of recipe you want to be precise with
Make sure your mixing bowl and whisk are really clean before you start, any grease will prevent the egg whites from forming a meringue (I wipe the equipment with white vinegar before starting)
Ingredients
Choose fresh ingredients; my almond meal was at the almost stale state and while I have a very sensitive palate, I can definitely tell that something is slightly off in flavor
Speaking of almond meal, I used Trader Joes; I think next time I'd look for some that is finer or pulse it through a food processor a few times to eliminate any interference with the clean, crisp texture
Process
Read the directions a few times to make sure you understand how each step works; setting up your mise en place certainly helps
Be patient!  Almost every time I make some form of meringue I get paranoid that it won't work, it just takes a few minutes more than I expect
Take your time folding the meringue into the almond meal paste, it is very delicate
Also take your time as you pipe your shells, that way yours might actually end up all the same size (mine definitely range!)
Be careful removing the shells from your parchment paper or slipat as to not break them
Storage
Store macarons for several days in refrigerator or up to six months in the freezer; bring to room temperature before serving
Even though it felt like a lot of work at the time, now I'm so excited to make them again.  Now that I know what the batter is supposed to feel and look like, I'll be a lot more confident for the next go around.
Oh, and in case you are looking for some fun ideas for your Super Bowl snacking on Sunday, check out some of the links below!
You should probably hurry to place a last minute order for the Smoked Sea Salted Caramel Chocolate Chip Cookies
Fun Pick-up Desserts for Super-Bowl
My "Party Apps" Pinterest board has a ton of great recipes
Super Bowl Party Ideas from Young Married Chic (also check out these push-up pops!)
Super Bowl Recipes from Baked by Rachel
Upscale Party Food ideas from the Novice Chef
14 Super Bowl Recipes from Incredients Inc.