Sometimes you just want a chocolate chip cookie.  There are very few things that smell as good warm out of the oven and even fewer things that will illicit a memory as wonderful as dunking a homemade chocolate chip cookie into a cold glass of cold milk.
My fond memories of eating the cookies standing up in the kitchen with my mom, before they even made it to the cooling rack, are some of my favorites.  I think memories like that are the reason that after a long day at work or a rainy day on the couch, all I want is a batch of couple chocolate chip cookies.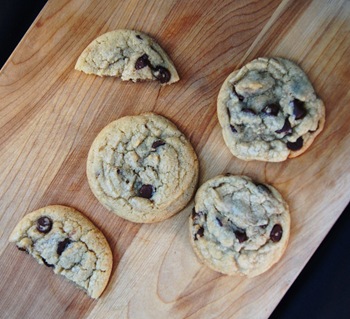 These cookies are chewy (sorry, Dad), melt in your mouth and have that slight caramel flavor resulting from a higher portion of brown sugar to white.  Just a warning: they are dangerously addictive if you are trying to show some sign of portion control.
[print_this]
Chewy Chocolate Chip Cookies
Yield: Makes ~2 ½ dozen cookies
Ingredients
2 cups plus 2 tablespoons all-purpose flour
1/2 teaspoon baking soda
1/2 teaspoon salt
3/4 cup (1 1/2 sticks) unsalted butter, melted and cooled until warm
1 cup packed light brown sugar
1/2 cup granulated sugar
1 large egg
1 egg yolk
2 teaspoons vanilla extract
1 1/3 cups semi-sweet chocolate chips
Cooking Directions
Pre-heat oven to 325 degrees
In a medium bowl. whisk the flour, baking soda, and salt; set aside
Using an electric mixer, beat the butter and sugars until thoroughly combined. Mix in the egg, egg yolk, and vanilla
Slowly stir in the dry ingredients and beat at low speed just until combined
Stir in the chocolate chips
Refrigerate dough for 2 hours (or up to 24 hours)
Use a cookie dough scoop (about 2 tablespoons) to lay out dough on a cookie sheet lined with parchment paper about 2 inches apart
Bake cookies until golden brown, 12-14 minutes
Cool cookies on cooling rack and enjoy
[/print_this]
Source: The Brown Eyed Baker and Serious Eats, originally from Baking Illustrated
What is your favorite way to enjoy a chocolate chip cookie?