This recipe came about while I was testing out ideas for an upcoming Cookie of the Month, and wondering how I could brighten up the resulting flat and not so exciting lemon cookies.
Don't let me fool you, the lemon cookies actually taste quite good on their own- they are chewy and delightfully lemon flavored (not overly sour or overly sweet).  But you know, they were just so boring.  Besides, I gave you a lemon cookie before that stood so well on its own it didn't need any extras.
So of course I had to consult with my mom, my go-to dessert expert.  She had the genius idea of adding strawberry buttercream.  So smart because not only do these cookies now scream summer, but they also have the prettiest pink filling!
I used this strawberry buttercream before for cupcakes and it was a huge hit, so I'm so glad we found a way to highlight it again!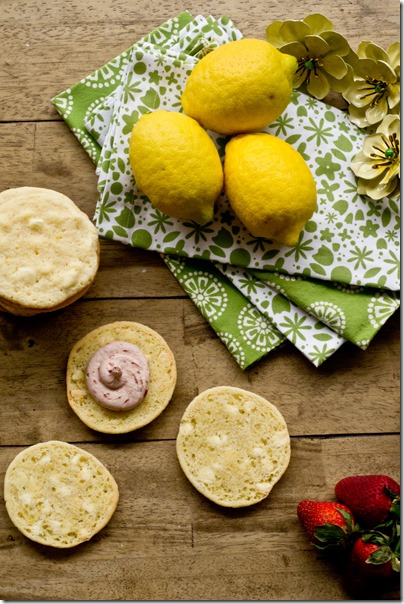 Oh, and I realized that I might have left a few of you hanging.  For those of you who don't follow me on social media, you may not have seen the big news I had teased about a few weeks ago.  Keep It Sweet Desserts was featured on the TODAY Show!  We were showcased as having the BEST BLONDIES on the East Coast.  Why yes I am still freaking out about that!
Anyway, back to these cookies!  Make them right away and then make them again for Mother's Day, they'd pair very well with a package of Strawberries and Cream Cookies ;-)
Lemon Cookies with White Chocolate Chips & Strawberry Buttercream
Chewy lemon white chocolate chip cookies sandwiched together with creamy strawberry buttercream.
Makes:
20 cookie sandwiches
Ingredients
White Chocolate Chip Lemon Cookies:
10⅛ ounces (~2¼ cups) all-purpose flour
2 teaspoons cream of tartar
1 teaspoon baking soda
½ teaspoon table salt
2 sticks unsalted butter, softened at room temperature
11¼ ounces (~1½ cups) granulated sugar
2 x-large eggs at room temperature
2 tablespoons lemon zest (~1 large lemon)
1½ cups white chocolate chips
Strawberry Buttercream:
4 ounces (1/2 cup / 1 stick) unsalted butter, softened at room temperature
½ cup strawberry jelly
1 cup powdered sugar
Instructions
White Chocolate Chip Lemon Cookies:
Pre-heat oven to 400 degrees; line baking sheets with parchment paper or slipats and set aside
In a medium bowl, whisk together flour, cream of tartar, baking soda and salt; set aside
In the large bowl of an electric mixer, cream butter and sugar for several minutes until light and fluffy
Scrape the sides of the bowl and add eggs and lemon zest, mix on medium speed just until combined
Reduce speed to low and slowly add flour mixture just until combined; scrape sides of bowl again and then stir in white chocolate chips
Use a medium cookie dough scoop (~2 tablespoons) and scoop cookie dough 1-2 inches apart on prepared pans
Bake 8-10 minutes or until center of cookie appears set and edges are a very light golden brown
Set aside cookies to cool and prepare buttercream
Strawberry Buttercream:
Beat the butter in the bowl of an electric mixer with the paddle attachment on high speed for several minutes until butter is light and creamy
Add jelly and beat on high speed for one minute; scrape the side of the bowl
Add sugar and mix on low speed until combined; then increase the speed to high and beat for several minutes until frosting is light and fluffy
To make the cookie sandwiches:
Set cookies into pairs closest in size to one another
Pipe or spread 1-2 tablespoons of buttercream on the bottom half of one cookie in each pair; lightly press other cookie on top of buttercream
Store cookies in an airtight container up to three days; may be frozen up to one month
Notes
Cookies very slightly adapted from
Martha Stewart
  (as seen on
Baked by Rachel
)
These were pretty large cookie sandwiches, you can definitely use a smaller cookie dough scoop and just reduce the cooking time by a couple of minutes.
If you aren't a fan of white chocolate chips, feel free to leave them out, but they do compliment the other flavors really well.

This post contains affiliate links.
You might also like: