I'm so glad that you seemed to enjoy my new weekly blog series!  It makes me so happy to have a way of staying connected just a little more regularly.  Definitely let me know if there are any other topics you would like me to include!
So these cake bars are another item I made when filming for eHow.  In case you aren't familiar with what happens when you film any kind of cooking how-to, you actually have to make everything at least twice.  There has to be a final product to show in the short time you have to film, but you also have to make everything while filming.  I sent the film crew home with leftovers, but was still left with a crazy amount of desserts after the fact.
Well, when Matt was helping me clean up, I decided to taste a bite of the version of these cake bars I'd made a few days earlier.  They were still really, really good.  It was at that moment that I told Matt he had to take the plate away immediately.  I knew I was in trouble.
The cake bars are moist and flavorful.  I added the peanut butter chips because without them, the peanut butter flavor in the cake is very subtle.  You actually don't need the cream cheese icing, but really, you always need cream cheese icing.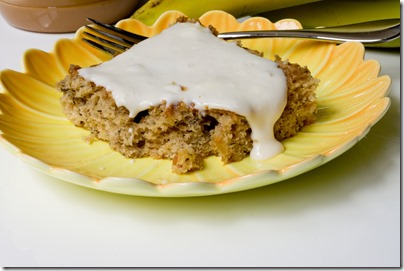 Peanut Butter Banana Cake Bars with Cream Cheese Icing
Ingredients
Cake Bars:
¼ cup light sour cream or plain low fat greek yogurt
1 teaspoon baking soda
5⅝ ounces (~1½ cups) cake flour
¼ teaspoon salt
2 ounces (4 tablespoons / ½ stick) unsalted butter at room temperature
⅓ cup creamy peanut butter
9⅜ ounces (~1¼) cups granulated sugar
2 x-large eggs at room temperature
1 teaspoon vanilla extract
1 cups mashed very ripe bananas (~2 large bananas)
½ cup peanut butter chips
Icing:
8 ounces light cream cheese
1 ounce (2 tablespoons) unsalted butter at room temperature
1 cup powdered sugar
½ teaspoon vanilla extract
Instructions
Cake Bars:
Pre-heat oven to 350 degrees; grease and flour a 9x13 baking dish and set aside
In a small bowl, dissolve baking soda in sour cream and let stand
In a medium bowl, whisk together flour and salt; set aside
In the large bowl of an electric mixer,  beat sugar, butter and peanut butter on medium-high speed for several minutes until light and fluffy
Add eggs and vanilla and mix on medium speed
Stir in bananas and mix on low speed; add flour and mix again on low speed low speed just until combined
Remove bowl from mixer and fold in sour cream; fold in peanut butter chips and do not overmix
Pour batter into prepared pan; bake 27-32 minutes or until a knife comes out clean from the center; set aside and allow to cool
Icing:
Beat cream cheese with an electric mixer for several minutes or until light and creamy. Add butter and beat until well combined
Add powdered sugar and mix on low speed; when sugar is incorporated, add vanilla and beat icing on high speed until mixture is light and fluffy; spread over cooled cake
Cover cake and store at room temperature up to three days
Notes
Adapted from my mom's banana cake recipe
P.S. Thinking about cooking or baking for Mother's Day?  Check out this very extensive round-up of Mother's Day recipe ideas!
You might also like: