How is everyone doing as we settle into fall? I'm admittedly all over the place these days. Between the house, L's upcoming 2nd birthday, holidays, and the general back and forth to everywhere, I feel like my head is spinning round and round! I've prioritized all of that real life "stuff" and as a result have been slacking over here. I do have a delicious cookie recipe coming soon, though, and hopefully, once we are settled into the house (and once we have a working kitchen), my baking inspiration will come back in full force.
In the mean time, I've been using up odds and ends of ingredients to bake (and cook) for some of the occasions that have been keeping us busy. Here are some recipes that I've made and enjoyed:
Cauliflower Kale Chickpea Curry Pot from The First Mess (L helped with this and was a big fan)
Snickerdoodle Apple Bread from Cookies and Cups
Apple Crumb Cake from Bakerita
Gluten-Free Pumpkin Chocolate Chunk Cookies from Bakerita (we actually haven't tried these yet, I stuck the whole batch directly into the freezer)
Perfected Yellow Cake from Mel's Kitchen with Whipped Chocolate Buttercream from Keep It Sweet Desserts (for Matt's birthday)
Fudgy Mocha Chip Brownies from Keep It Sweet Desserts (currently my favorite brownie recipe)
One-Bowl Pumpkin Blondies (with chocolate instead of cinnamon chips) from Keep It Sweet Desserts
Lighter Chocolate Chip Banana Cake from Keep It Sweet Desserts
The very good news is that we are moving in just a few weeks! Whether the house is "ready" or not, we are moving on October 31! It might be completely chaotic and the house might still be a bit of a mess, but at least we can trick-or-treat in our new neighborhood. I've already got L excited about getting candy and wearing his costume. He's going to be the firefighter dog from Paw Patrol (I think his name is Marshall?). L likes to put the backpack and hat on and walk around the apartment saying "Ready to go to preschool now!"
My almost 2-year old is getting so big!
Now for this week's updates….
New recipe/blog posts:
Chocolate Peanut Butter Swirl Fudge
This week's most popular recipe/blog post: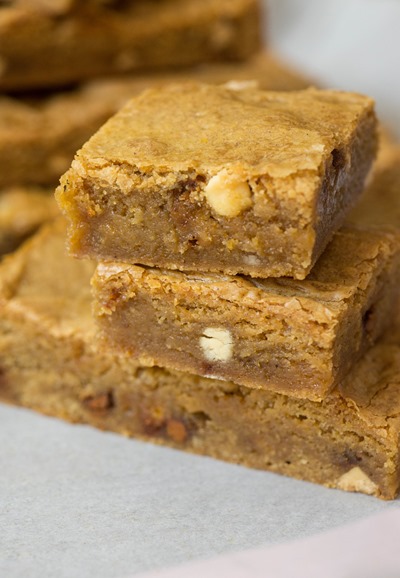 Five favorite things I pinned all week:
Mocha Coffee Cake from My Baking Addiction
Caramel Apple Blondie Cheesecake from Life, Love, and Sugar
Pumpkin Zucchini Bread from Shugary Sweets
Pumpkin Banana Chocolate Chip Bread from Running to the Kitchen
Pumpkin Beer Ice Cream from We Are Not Martha
I hope that you all are having a wonderful weekend!