Happy Mother's Day weekend to all of the mom's out there! I can only aspire to be the caring and supportive mom that both my mother and mother-in-law are. Both of them, while maybe not from the most lovey-dovey of upbringings, are amazing, hard-working women who spent the last 30ish years putting their children's happiness above anything else in the world.
I was reminded of the contrast in parenting between that which my own parents' took on and the way they had been raised last week. It makes me feel so lucky to know that my sister and I benefited from that, never having to wonder if we were disappointing our parents in any way. I've already taken one step to put my own children first, but I know that every woman has to decide for herself what that means.
Speaking of last week, the reason I missed the weekly update is that I was busy visiting my best friends in Florida. It's so hard living far away from them, but I can't say that South Florida is a bad place to visit yearly. I finally got to meet this sweet little girl. Seeing how great of a mom that my best friend has become so quickly was really wonderful to see.
Now for this week's updates:
Most popular product: KISD Perfect Chocolate Chip Cookies
Current seasonal specials: Double Chocolate Peanut Butter Chip Cookies, Graduation Gift Basket
Most popular recipe/blog post: Keep It Sweet Desserts, What's Next?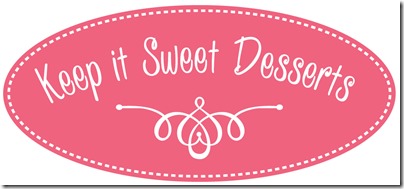 Five favorite things I pinned all week:
Vanilla Bean Strawberry Buttermilk Cake from Portuguese Girl Cooks
Cheetos Marshmallow Crispy Treats from Seeded at the Table
Homemade Snickers Cups from Erren's Kitchen
Peaches and Cream Streusel Bread from Girl Versus Dough
Gooey Cinnamon Roll "Cake" from The Baker Chick
I hope that you all have a wonderful weekend!