Flaky pie crust, flavorful roasted butternut squash filling and a sweet toasted brown sugar marshmallow topping make an amazing fall dessert. This is the perfect Thanksgiving pie!
Today we are celebrating with a virtual bridal shower for a very dear friend of mine! Joanne is getting married in just a few weeks and I'm so happy to be a part of the celebration. Not only am I partaking in this virtual shower, but I was also honored to be asked to be a bridesmaid in the wedding.
I've known Joanne for four years now and she is truly such a wonderful person. We met over dinner and then quickly bonded later as we flew across the country without a moment of silence on the plane. Our friendship was instantaneous. In the past four years we've shared highs and lows and now we are celebrating a very wonderful high. Her happiness is contagious!
Among many other things, Joanne and I share a love of winter squash. For her fall-themed virtual shower, I thought it would be the perfect ingredient to focus on. I wanted to make a very special dessert and I have a feeling that this pie, packed with our favorite vegetable (seriously, look at that bright orange hue in the photo above) was the perfect choice. The marshmallow topping adds a wonderful sweetness and the flavor from the brown sugar really compliments the pie. Thinking about what to make in a few weeks for Thanksgiving? This pie will not let you down.
Scroll down to see what our other blogging friends are sharing!
Roasted Butternut Squash Pie with Brown Sugar Marshmallow Topping
Flaky pie crust, flavorful roasted butternut squash filling and a sweet toasted brown sugar marshmallow topping make an amazing fall dessert. This is the perfect Thanksgiving pie!
Makes:
1 9-inch pie; 8-10 servubgs
Ingredients
1 unbaked 9-inch (4-cup volume) deep-dish pie crust dough, cold* (I used Audra's pie crust recipe – so flaky!)
Butternut Squash Filling
900g (~4 cups) cubed butternut squash (from ~2 ½ pound squash)
2g (1 teaspoon) ground cinnamon
1g (1/2 teaspoon ground nutmeg)
½g (1/2 teaspoon ground ginger)
118g light brown sugar, tightly packed
150g (3 large) whole eggs at room temperature
148 milliliters (1/2 cup + 2 tablespoons) heavy cream
30 milliliters (2 tablespoons) bourbon (optional, can replace with vanilla)
Toasted Brown Sugar Marshmallow Topping
115g (1/2 cup tightly packed) light brown sugar
50 g (¼ cup) granulated sugar
60g (3 large) egg whites at room temperature
1g (1/4 teaspoon) cream of tartar
Instructions
Roast squash: pre-heat oven to 425 degrees Fahrenheit; Line a large baking sheet with foil and coat with non-stick cooking spray
Place squash on baking sheet and toss with cinnamon, nutmeg and ginger; cook in oven for 30-35 minutes or until fork tender; set aside to cool
Reduce oven temperature to 350 degrees Fahrenheit and prepare to par-bake pie crust
Roll out pie crust and press into a 9-inch glass or ceramic pie plate (do not overwork the crust); neatly trim the edges and crimp crust as desired; refrigerate pie place with crust for ten minutes so that dough is once again chilled
When ready, line pie shell with foil and fill with pie weights, change or dried beans
Bake for 25 minutes and then remove pie crust from oven; remove foil and pie weights; return to oven for an additional 10 minutes or until crust appears to be a very light gold (remember, you will be baking the rest of the pie for additional time)
While crust is baking, prepare pie filling (you can use a large bowl with an immersion blender or a high-speed blender); place all filling ingredients in bowl or blender and combine on high speed until smooth (if using a high-speed blender like a Vitamix, start blender on low and gradually increase speed to high; blending will only take a couple of minutes)
Pour filling into pie shell and bake for about 40-50 minutes or until filling is set; if crust begins to brown too much during baking, cover lightly with foil
Set pie aside on cooling rack and prepare topping
Place sugars, egg whites and cream of tartar in a the large bowl of an electric mixer or another heatproof bowl set up with a candy thermometer
Place bowl over a medium pot or saucepan of simmering water, being careful that the water does not reach the bowl
Whisk the topping ingredients constantly for several minutes or until sugar has dissolved and temperature reaches 160 degrees Fahrenheit
Remove bowl from heat and use the whisk attachment on electric mixer to finish topping; beat on high speed for about six minutes minutes or until stiff glossy peaks form
Spread or pipe decoratively over pie and use a torch or broiler to (carefully without burning) brown the marshmallow topping
Notes
Adapted from
Food and Wine
Pie can be made one day in advance and refrigerated (you can wait to torch or broil the topping until prior to serving if desired)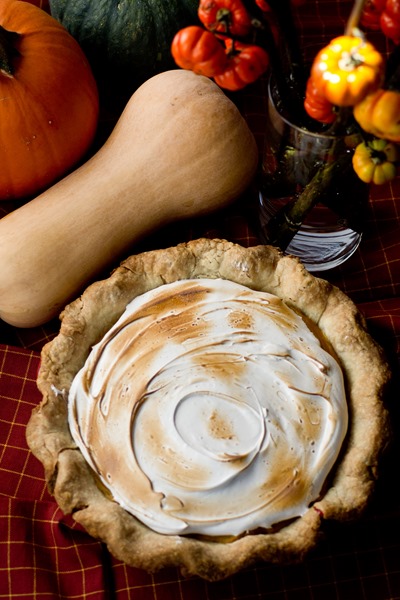 My pie-loving (but super-picky-dessert-eating) sister said this was the best pie she has ever eaten!
And now for the rest of the shower!
Cocktails:
Pumpkin Spice White Russian – Nutmeg Nanny
Warm Apple Pie Cocktail – Miss In The Kitchen
Bourbon Apple Cider Cocktail– Cook Like A Champion
Snacks/Savory:
Baked Brie with Honey and Sliced Almonds – The Lemon Bowl
Butternut Squash and Apple Galette – Warm Vanilla Sugar
Roasted Pumpkin Crostini – Annie's Eats
Kale Salad with Maple Butternut Squash and Pomegranate Dressing – Blahnik Baker
Lemony-Pasta Stuffed Zucchini – Very Culinary
Pumpkin Dip with Apple Chips– Meadows Cooks
Sweet:
Pumpkin Cinnamon Roll Cake – The Baker Chick
Peanut Butter Fudge Pie with Salted Peanut Butter Caramel– Taste and Tell
Caramel Apple Upside Down Cake – The Girl in the Little Red Kitchen
Snickerdoodle Bundt Cake – Chocolate and Carrots
Roasted Butternut Squash Pie with Brown Sugar Marshmallow Topping – Keep It Sweet
Caramel Corn Chocolate Chip Cookies – The Cooking Actress
Caramel Cranberry Apple Galette – Bakeaholic Mama
Coconut Pecan Tarts – Bake or Break
Cranberry Margarita Cupcakes – Baker by Nature
Gingerbread Truffles – Dinners Dishes and Desserts