As if moist pumpkin cupcakes weren't enough, I filled them with a luscious caramelized white chocolate ganache and topped them with caramelized white chocolate buttercream. 
These cupcakes are easily one of my favorite recipe creations in the entire life of the blog.  I'm not the biggest cupcake lover (I'd rather have layer cake), so when I have cupcakes, they have to be extra special.
These Pumpkin Cupcakes do not disappoint.  They are flavorful and extremely moist.  And thanks to the caramelized white chocolate (hello new favorite ingredient!), they are unique, over-the-top and pumpkin-neutral-husband approved.
Before you scroll down for the recipe, I'm going to warn you; they are time consuming.  The recipe is, to put it lightly, lengthy.  You have to make caramelized white chocolate, cupcakes, ganache filling and buttercream.  For someone who spends all of their time in the kitchen, they took me a few hours from start to finish (so for most people they are likely an all-day project).  It was baking therapy at its finest, though, and the result was hands down worth every second of baking and dishwashing.
Just look at the inside of the cupcakes!  The cake actually absorbs the liquid gold caramelized white chocolate ganache so the cupcakes completely melt in your mouth.  This is not a dessert for the faint of heart.  I recommend saving them for a quiet day in the kitchen and then serving them as the keynote dessert at your dinner party.  They are certainly worthy of a spot on the Thanksgiving table as well.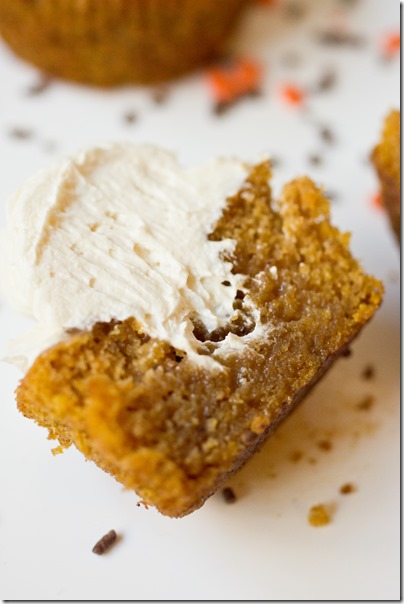 Stay tuned for an upcoming post with more caramelized white chocolate love.
You might also like: