An easy and traditional Rosh Hashanah dessert to celebrate a sweet new year.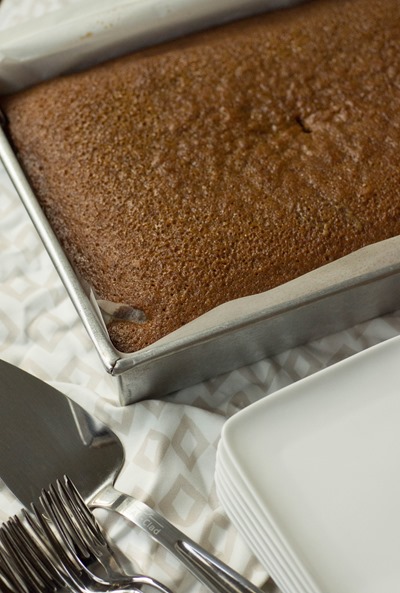 The Jewish holidays are so early this year so it's a bit of a rush to get organized. Granted, I don't have that much to do for the holidays, just some baking, but it's hard to think about those warm fall flavors that we are used to when menu planning in August.
So I eased into things and started with this honey cake. At first glance the honey cake might be overlooked in its simplicity, but this version is so moist and full of warm comforting flavors (lots of cinnamon and some nutmeg, too) that it's worth of a spot on your table. It's sweet (for a sweet new year of course) so while there is a part of me that wants to fancy things up with whipped cream or powdered sugar at least, the smarter side of me knows that a slice of this honey cake just calls for a cup of hot tea or dark coffee.
You know what else made this cake exciting? See that photo above? We got two huge jars of beautiful raw local honey through our CSA. At first I didn't know what to do with it, we really don't use honey often, but it was perfect to have on hand when I wanted to bake this honey cake. Some people discourage baking with raw honey because it kind of defeats the purpose of it being "raw", but if you have a lot of honey, I say you should bake this cake!
Easy Honey Cake for Rosh Hashanah
An easy and traditional Rosh Hashanah dessert to celebrate a sweet new year.
Ingredients
440g (~3⅓ cups)all-purpose flour
5g (1 teaspoon) baking powder
5g (1 teaspoon) baking soda
3g (1/2 teaspoon) salt
8g (4 teaspoons) ground cinnamon
½g (1/2 teaspoon) ground nutmeg
¼g (1/2 teaspoon) ground cloves
237 milliliters (1 cup) vegetable or canola oil
340g (1 cup) honey
300g (~1⅓ cups) granulated sugar
95g (~1/3 cup, tightly packed) brown sugar
165g (3 whole large) eggs at room temperature
237 milliliters (1 cup) warm coffee
118 milliliters (1/2 cup) orange juice
30 milliliters (2 tablespoons) whiskey
30 milliliters (2 tablespoons) vanilla extract
Instructions
Pre-heat oven to 350 degrees; line a 9x13 pan with parchment paper and lightly butter or spray well with nonstick cooking spray
In a large bowl, whisk together the flour, baking powder, baking soda, salt, cinnamon, nutmeg and cloves; set aside
In the large bowl of electric mixer combine remaining ingredients (oil through vanilla) on low speed until well combined
While mixer is still on low, slowly add dry ingredients; continue mixing for several minutes just until combined.; batter should be smooth and have a little thickness
Pour batter into baking pan and bake 40-45 minutes or until a knife or toothpick comes out clean from center
Allow cake to cool for 30 minutes before carefully removing from pan
Cake can be wrapped well in seran and stored at room temperature up to five days or frozen up to one month
This post contains affiliate links.
You might also like: