This light and moist dark chocolate cake is the perfect pairing for the creamy cookie butter frosting.  This is the perfect birthday cake or just because cake.
Confession time:  I have all sorts of stuff going on that I can't talk about here and it is driving me insane.
I should just be super excited to tell you about this cake which Matt deemed one of his favorite combinations to date.  But I'm so distracted with everything else going in in my head that it's hard to talk or write about other things.  Such is life, though, and hopefully soon that won't be a problem anymore!  And no, I'm not holding out on a cookbook announcement or anything like that.  A Keep It Sweet Desserts cookbook would be fun, though, wouldn't it?
Okay, I'll talk about this cake for a second.  Like I said, Matt loved it.  He is pretty used to enjoying my desserts so when something gets an extra compliment it means I really did something right.  We had a few friends over who seemed to agree with the sentiment and considering I may or may not have had two big slices yesterday afternoon, I guess I liked it too (ahem).  The cake turned out perfect- it is the chocolate cake recipe my mom made for me growing up (my favorite used to always be chocolate on chocolate).  I added to the intensity by swapping water for coffee (she had just tried that too).  And the buttercream…. I almost forgot how much I loved egg white based buttercreams.  It is SO worth the effort.  I actually could have done with about 30% more buttercream for the cake.  Next time!
Extra Dark Chocolate Cake with Cookie Butter Buttercream
This light and moist dark chocolate cake is the perfect pairing for the creamy cookie butter frosting. This is the perfect birthday cake or just because cake.
Ingredients
Chocolate Cake
260g (~2 cups) all-purpose flour
65g (~3/4 cup) good quality dark unsweetened cocoa powder
10g (1¼ teaspoon) baking soda
3g (1/2 teaspoon) salt
170g (3/4 cup / 1½ sticks) unsalted butter, softened at room temperature
375g (~1¾ cup) granulated sugar
100g (2 large whole) eggs at room temperature
5 milliliters (1 teaspoon) vanilla
325 milliliters (1⅓ cups) brewed coffee
Cookie Butter Buttercream:
75g (~1/4 cup + 1 tablespoon) egg whites
32g (~3 tablespoons) granulated sugar
Additional 150g (~3/4 cup) granulated sugar
50 milliliters (~3 tablespoons + 1 teaspoon) water
227g (1 cup) unsalted butter, softened and cut into 1-inch cubes
180g (~3/4 cup) Cookie Butter (or other speculoos of choice)
Instructions
Make cake
Pre-heat oven to 350 degrees
Grease and flour two 8 or 9-inch round pans and line bottoms with parchment paper
In a medium bowl, whisk together flour, cocoa, baking soda and salt; set aside
In the large bowl of an electric mixer with paddle attachment, cream butter and sugar; add eggs and vanilla and beat one minute at medium speed
Reduce speed of mixer to low and add ⅓ of the dry ingredients; add ½ of coffee and repeat
Add remainder of dry ingredients and turn off mixer; make sure not to overbeat; if there are any lumps fold them in with a spatula
Pour batter into prepared pans and bake for 30-35 minutes or until a toothpick comes out clean from center of cakes
Set cake layers aside to cool for 10 minutes then carefully remove each layer from pans; run a knife around the edge of each layer for easier removal; set aside to finish cooling and make buttercream
When buttercream is ready, put a spoonful on center of cake plate (this will help hold cake in place)
Place one layer down and if rounded, use a serrated knife to cut off very top of cake; frost that layer and top with second cake layer; frost with remaining buttercream
To make buttercream
Wipe the bowl of an electric mixer, whisk attachment, whisk, spatula and candy thermometer with a paper towel and vinegar to clean (if any grease is on these items your meringue will not work)
Place egg whites in large bowl with whisk attachment and mix on medium speed; gradually add the 1⅛ ounces sugar; keep mixer on
In a medium heavy duty saucepan, combine water and remaining 5¼ ounces of sugar over medium-high heat and whisk together; whisk occasionally until temperature of syrup reaches 248 degrees Fahrenheit
Meanwhile, egg whites should begin to form loose peaks; if this happens before syrup is hot enough, reduce mixer speed to low
Once syrup is hot enough, reduce mixer speed to medium-low and slowly and slowly add syrup to the mixer
Increase speed to medium-high and keep mixer on for 10-15 minutes or until it holds stiff peaks AND bowl has cooled to room temperature
Reduce the speed to medium and add softened butter, a couple of tablespoons at a time, until fully combined; mixture should be smooth and creamy
If there are any lumps, increase speed to high until frosting becomes smooth
Add cookie butter and combine on medium speed until well incorporated and buttercream is light and creamy
Use immediately or store in an airtight container in refrigerator and beat with the paddle attachment of an electric mixer before using
Notes
Keep cake in a cool dry place (best kept refrigerated during summer)
Best served within 3 days of baking
Cake slightly adapted from
Hershey
Buttercream slightly adapted from the
Bouchon Bakery Cookbook
This post contains affiliate links.
You might also like:
Chocolate Stout Celebration Cake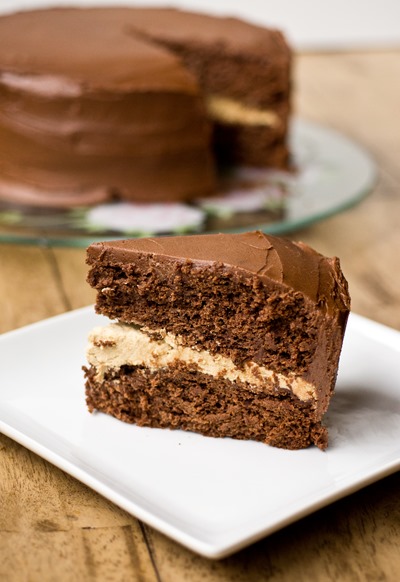 Triple Chocolate Cheesecake Cupcakes