Last night was my 10-year high school reunion.  I didn't really know what to expect, but for some reason I was a little nervous about going.  There was the whole cliché of wanting to look good, which isn't all that convenient two days after Thanksgiving, but I also wondered if it would be all that interesting given Facebook's presence in all of our lives.
Luckily, my best friends since forever and I had dinner beforehand which made walking into the event a little less nerve-racking.  Oh, and a jalapeno blackberry margarita didn't hurt either.
But I have to tell you, I'm not sure what I was so worried about.  It was actually really nice to see most of the people who were at the reunion.  I spoke to a girl who sat next to me in third grade.  She was the nicest person then, at eight years old, and she is just as nice today.  There were a few people who had seen Keep It Sweet Desserts postings on Facebook and ordered cookies, they came up to me and raved about them.  And then there were others who told me that they voted religiously during the Martha Stewart American Made contest.
Frankly, I was overwhelmed by how many people wanted to hear about my business and tell me how wonderful they think it is.  Of course some of these people had been my friends, but there were others who I didn't even think knew me way back in my awkward teenage years.  So to all of my UD 2012 classmates, you guys are pretty awesome.
Meanwhile, it has been such a crazy week that at 6am this morning I headed back from Philly to package lots and lots of desserts.  It was hard to be motivated to come back and work after a week of very little sleep, but then I remembered the Thanksgiving leftovers I'd avoided in my effort to look good for the reunion.  Let's just say that the last of this cheesecake did not stand a chance.
Pumpkin Cinnamon Roll Cheesecake
Pumpkin cheesecake meets cinnamon roll!
Ingredients
Cinnamon Roll Batter
9¼ ounces all-purpose flour (2 cups)
2 teaspoons baking powder
½ teaspoon table salt
5 ounces granulated sugar (2/3 cup)
4 tablespoons (1/2 stick) unsalted butter, softened at room temperature
1 x-large egg, at room temperature
½ cup whole milk at room temperature
1 tablespoon pure vanilla extract
Pumpkin Cheesecake Filling
2 8-ounce packages cream cheese, softened at room temperature (I actually snuck in fat free cream cheese, SHHH don't tell!)
2⅛ ounces (1/4 cup, packed) light brown sugar
1⅞ ounces (1/4 cup) granulated sugar
½ ounce (1½ tablespoons) all-purpose flour
½ teaspoon ground cinnamon
¼ teaspoon ground nutmeg
¼ teaspoon ground ginger
⅛ teaspoon table salt
2 x-large eggs at room temperature
1 teaspoon pure vanilla extract
1 cup canned pumpkin (not pumpkin pie filling)
Cinnamon Filling
⅓ cup unsalted butter, melted
8.25 ounces (1 cup, packed) light brown sugar
3 tablespoons ground cinnamon
Cream Cheese Icing
3 ounces cream cheese (preferably light or regular here)
4 tablespoons (1/2 stick) unsalted butter, softened at room temperature
1½ cups powdered sugar
½ teaspoon pure vanilla extract
Instructions
Pre-heat oven to 350 degrees; grease a 9 inch spring-form pan (also, wrap with tin foil if your pan tends to leak like mine); set aside
Prepare cinnamon roll batter
Sift flour, baking powder and salt into a medium bowl; set aside
In the large bowl of an electric mixer, beat sugar and butter on high speed for several minutes or until light and fluffy
Add eggs, milk and vanilla and beat on medium speed until combined; scrape sides of bowl and with mixer on low speed, slowly add in dry sifted dry ingredients; mix just until combined
Spread half of this batter onto the bottom of the spring-form pan, this will be the bottom layer; grease your hands to help press batter down
Prepare cheesecake filling
In the large bowl of an electric mixer, using the whisk attachment, beat cream cheese until light and creamy
Add sugars, flour and seasonings and beat on high speed; scrape the sides of the bowl
Add eggs and vanilla, beat on medium speed
Mix in pumpkin until combined
Pour cheesecake batter over cinnamon roll layer
Prepare cinnamon filling
Stir together butter, brown sugar and cinnamon
Drop spoonfuls of cinnamon filling on top of cheesecake layer
Top that with big drops of cinnamon roll batter; use a knife to carefully swirl the batter
Bake cheesecake for 45-55 minutes or until top is firm and lightly browned
Chill cheesecake in fridge for a few hours or overnight
Prepare cream cheese icing
In the large bowl of an electric mixer, beat butter on high speed until light and creamy
Add powdered sugar and vanilla; mix on low for one minute then beat on high speed for several minutes until frosting is light and fluffy
Pipe or spread icing on cheesecake as desired; I iced around the sides of the cheesecake and piped a big swirl on top to play on the "cinnamon roll" theme
Slice, serve and enjoy!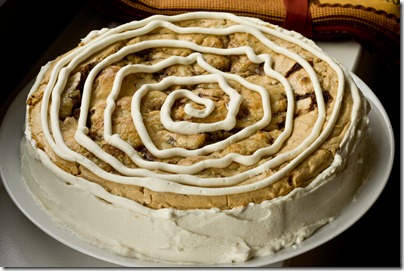 P.S.  Stay tuned for an AMAZING Cyber Monday special!
You might also like:
Giant Caramel Apple Cinnamon Bun
Pumpkin Cinnamon Bun Ice Cream