The other day I had 24 hours with my best friend/college roommate, Rachel
We brunched, we window-shopped, we walked, we pedicured… it was fabulous
And since she was in town from Florida we made a couple of very important stops…. Pinkberry
…and forty carats
Best friends don't let best friends go without fro yo.
And then after a day of running around the city and catching up on months of conversation (I hadn't seen her since my wedding!) we changed our out-on-the-town evening plans and crashed the husband's dinner
We went to this restaurant near my apartment
Beer sampler anyone?
Of course the rest of the night was spent catching up some more on life like only best friends do
We were so happy to be reunited, I almost didn't let her leave!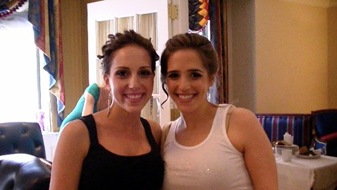 What would you do if you had a best friend visit for 24 hours?