Rich pound cake layers with delicious fluffy frosting and a rich whipped chocolate ganache.
I don't know what it is, but when I travel for a weekend, I always have a million different bags.  Maybe I just should take 1 big bag and call it a day?  I just try so hard to be an efficient and minimalist traveler (ha!).
What if I want to workout?  Sneakers.  Are we going out to a nice dinner? Heels (maybe).  Do I want to look pretty? Makeup.  Work to do? Computer (always).  Are we celebrating something? Gifts.
Am I supposed to bring some sort of dessert? Wait, that's not actually a question.  Do I want to blog about it? Camera (woops!).  I am thankful for my iPhone!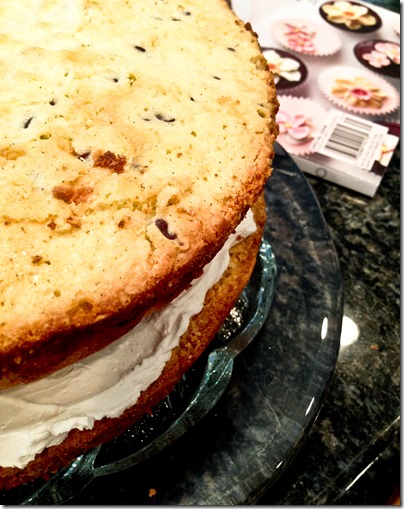 I don't really go anywhere without some sort of sweet treat, because frankly, I'll be sent back from where I came if I don't!  For Mother's Day weekend, however, I was a little behind on my baking.  So instead of a finished product, I traveled with cake layers.  Completely normal, right?  Probably not, but you know what, it was worth it.
I'm actually a huge fan of pound cake.  I very rarely make it but when I saw this cake from Michelle a few weeks ago, I was completely inspired to translate her recipe into a layer cake.  It did not disappoint!
Since it was Mother's Day, I knew the cake needed plenty of chocolate.  The moist and dense (perfect pound cake texture!) cake layers were filled with chocolate chips and the outside was covered with a rich whipped chocolate ganache.  The filling was vanilla buttercream.  I was actually experimenting with a shortening-based recipe, but next time I'd just use all butter or at least half butter instead.  Okay, now I am completely craving this cake again.

Chocolate Chip Cream Cheese Pound Cake with Whipped Chocolate Ganache
Serves 12-16
Cake very slightly adapted from Brown Eyed Baker
Whipped Ganache Frosting from Martha Stewart
Chocolate Chip Cream Cheese Pound Cake
Ingredients:
12 ounces (1 1/2 cups / 3 sticks) unsalted butter, softened at room temperature
8 ounces regular cream cheese
1 pound 6 1/2 ounces granulated sugar (~3 cups)
6 eggs at room temperature
11 1/2 ounces (~3 cups) cake flour, sifted
2 teaspoons vanilla extract
1/4 teaspoon salt
6 ounces (~1 cup) mini semi-sweet chocolate chips
Directions:
Pre-heat oven to 325 degrees; grease and flour two 8-inch round cake pans; line bottoms of pans with parchment paper and grease and flour the parchment paper; set aside
In the bowl of an electric mixer, beat butter and cream cheese on medium-high speed until light and creamy; add sugar and beat mixture until light and fluffy; scrape the sides of the bowl
Add eggs, one at a time, mixing on medium speed between each one until incorporated; mix in vanilla on medium speed until combined and then scrape the sides of the bowl
With mixer on low, slowly add the flour and the salt just until combined; do not overmix
Remove bowl from mixer and fold in chocolate chips
Pour batter into prepared baking pans and bake 40-50 minutes or until a knife comes out clean from center of each layer; edges will brown slightly; do not overbake
Set aside cake to cool and prepare filling and ganache
Once cake has cooled, carefully remove layers from pans; run a knife around the edge of each layer for easier removal
Frost bottom layer with filling and top with second cake layer; frost entire outside of cake with whipped ganache
Basic Vanilla Buttercream with Shortening for filling
Ingredients:
3/4 cup shortening
1 1/2 cups powdered sugar
1/2 teaspoon vanilla extract
Directions:
Beat shortening in electric mixer on high speed for several minutes until light and creamy; add powdered sugar and mix on low for one minute; scrape sides of the bowl and add vanilla; beat on high speed until light and fluffy; use immediately or covered in refrigerator up to five days; bring to room temperature before using
Whipped Ganache Frosting
Ingredients:
1 pound semi-sweet chocolate, roughly chopped
2 cups heavy cream
1/4 teaspoon salt
Directions:
Place chocolate in a large heat-safe bowl and set aside
Pour cream into a medium heavy duty sauce-pan and place over medium heat; bring to boil and remove immediately
Pour hot cream over chocolate, add salt, and let stand for 10 minutes
Whisk mixture until smooth
Chill ganache in refrigerator for 1 hour to 1 hour 15 minutes, stirring occasionally, until ganache is thick in texture but not hard
Once chilled, put ganache in the bowl of an electric mixer; beat on high speed for about four minutes or until light and fluffy and paler in color
Use immediately
Notes:
Cake layers can be made ahead of time; wrap tightly in plastic wrap and store at room temperature for one day or in freezer up to one month
Once frosted, serve immediately; cake can be stored in refrigerator up to two days covered lightly with plastic wrap; bring to room temperature before serving