Well, with everyone hunkering down for the next couple of days to hopefully stay safe from the storm, I'll officially start to make my way through the piles of recipes and cookbooks in my apartment to come up with a Thanksgiving menu.
Ok, who are we kidding, I need to decide on desserts!  While I could be perfectly happy with an entire meal that revolves around pumpkin, I'm pretty sure my family doesn't feel the same.  Here is some inspiration for all sorts of Fall desserts (pumpkin AND other)  that you probably need to make now or for Thanksgiving in just a few weeks!
Apple Desserts
Apple Cinnamon Blondies from Keep It Sweet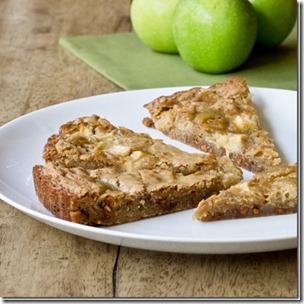 Caramel Apple Cake from An Edible Mosaic
Apple Pie Coffee Cake from Cake Duchess
Apple Cinnamon Crumb Cake from Keep It Sweet
Salted Caramel Apple Cheesecake Bars from Eats Well With Others
Apple Upside Down Cake from the Avid Appetite
Caramel-Chocolate Apple Tart from Une Gamine Dans La Cuisine
Fall Trifle from Keep It Sweet
Apple, Orange and Lemon Chiffon Cake from Food Wanderings
Snickers Apple Tart from Culinary Concoctions by Peabody
Caramel Apple Cake Trifle from Keep It Sweet
Caramel Apple Cinnamon Roll Cupcakes from the Spiffy Cookie
Apple and Peanut Butter Oatmeal Crumble from Keep It Sweet
Pear Treats
Spiced Apple Pear Pies in Mason Jars from Young Married Chic
Poached Pomegranate Spiced Pears from Jeanette's Healthy Living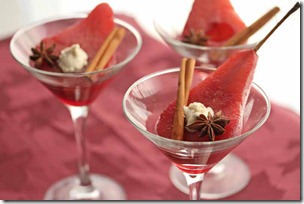 Apple Pear Crumb Cake from An Edible Mosaic
Bosc Pears with Rum, Mascarpone and Ginger Syrup from Lemons and Anchovies
Pear and Cheese Pockets from Keep It Sweet
Pumpkin!
Gooey Pumpkin and Peanut Butter Oatmeal Bars {Gluten-free} from Keep It Sweet
Pumpkin Crunch Cake from Chef Dennis
Vegan Maple Pumpkin Pie from Cake Duchess
Chocolate Pumpkin Cake with Vanilla Bean Swiss Meringue Buttercream from Grace's Sweet Life
Easy Low Fat Pumpkin Sheet Cake from Keep It Sweet
Pumpkin Chocolate Cheesecake Bars from Keep It Sweet
Pumpkin Banana Nut Bread from Live Life
Spice Cookie Dough Stuffed Pumpkin Whoopie Pies from Sprinkle Bakes
Gingersnap Spiced Mini Pumpkin Pies from Pass the Sushi
Brown Butter Pumpkin Cake Cheesecake with Salted Caramel from Willow Bird Baking
Frozen Pumpkin and Chocolate Yogurt Pie with Salted Caramel Cream Sauce from Keep It Sweet
Pumpkin Cheesecake from Dessert for Two
Pumpkin Pie Cookie Dough Truffle Pops from Keep It Sweet
Gluten-Free Pumpkin Chocolate Chip Cookies from the Wannabe Chef
Lightened Up Pumpkin Cream Cheese Swirl Bars from Cookies and Cups
Fudge Striped Pumpkin Peanut Butter Cookies from How Sweet It Is
Brown Butter Pumpkin Cupcakes with Caramel Cream Cheese Frosting from Tracey's Culinary Adventures
Biscoff Pumpkin Oatmeal Cookies from Two Peas & Their Pod
Other Fun Fall Flavors:
Brown Sugar Cupcakes with Cinnamon Ginger Buttercream and Ginger Cookie Pecan Brittle from Keep It Sweet
Butternut Squash Cupcakes with White Chocolate Frosting from from Une Gamine Dans La Cuisine
Mini Halloween Confetti Cookie Sandwiches from Keep It Sweet
Halloween Goblin Goo Parfaits from Baked by Rachel
Ginger Maple Miso Ice Cream from Spabettie
Brown Butter Bourbon Spice Cookies from Bake Your Day
Sticky Cider Pecan Cakes with Cinnamon Ice Cream and Salted Caramel via The Little Loa
Gingerbread Scones {Low Carb & Gluten-free} from All Day I Dream About Food
Biscoff Caramel Cookie Bars from Dinners, Dishes and Desserts