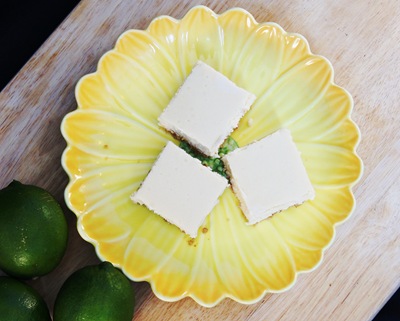 This is one of those recipes that I came up with accidentally.  Sometimes I have bakers block and can't think of anything new or interesting to make.  I was inspired by Victoria's cookies and wanted to do something with lime and salt.  Then I remembered the cream cheese in my refrigerator and eventually these Margarita Cheesecake Bars were born.
Thanks to a combination of Vienna fingers and pretzels, they have a wonderfully balanced sweet and salty crust.  Topped with a layer of light but creamy lime cheesecake they become a perfect summer treat.  The lime and the salt reminiscent of a margarita and who doesn't like that?
Ok, I'll be honest- I'm not the biggest margarita fan.  I prefer to save my sugar calories for more important things like dessert.  Cheesecake and a Vodka Soda with lime juice for me, please.
[print_this]
Margarita Cheesecake Bars
Yield: Serves 16
Ingredients
3/4 cup Vienna Finger (or vanilla sandwich cookie of choice) crumbs (about 6 cookies)
3/4 cup salted pretzel crumbs (about 1 1/2 cups of small pretzels)
2 tablespoons granulated sugar
1/4 teaspoon salt
4 tablespoons (1/2 stick) unsalted butter, melted
2 8-ounce blocks light cream cheese, softened
3/4 cup sweetened condensed milk (I used fat free)
2 eggs
1/4 cup fresh lime juice (~2 limes)
1/2 teaspoon vanilla extract
1 tablespoon all-purpose flour
Cooking Directions
Pre-heat oven to 350 degrees
Grease a 9×9 baking pan and set aside
In a medium bowl, combine cookies, pretzel crumbs, butter, sugar and salt
Press crust mixture into prepared baking pan and bake for ~7 minutes or until lightly browned; set aside
Using an electric mixer and the whisk attachment, beat cream cheese on high for a few minutes until creamy
Add sweetened condensed milk and beat into cream cheese
Beat in eggs, lime juice and vanilla
Stir in flour
Pour cheesecake mixture over crust and bake for 25 minutes or until firm and edges are separating from pan
[/print_this]
Adapted from Eagle Brand
Do you drink margaritas? If not, do you have a go-to drink?