Thank you so much for the thoughtful comments and messages regarding last week's post. Sometimes you just have to get something off your chest… I apologize for not being able to share details.
Other than all of that, this week felt a bit chaotic… or maybe I felt anxious about upcoming chaos. The next few weeks area jam packed with going back and forth to my parents' house and spending some time at my in-laws as well. Along with that I have birthdays and Passover to bake for and for the first time ever I think it might not all happen. I also may or may not be behind on recipes for the blog. I told myself before that I really don't have to get them up every week, but easier said than done! I made a pretty awesome cake yesterday but I'm not sure how soon I'll get to posting it. I also want to put together a post on baby travel… Where does the time go?
In the mean time, I'm really trying to prioritize taking care of myself a bit. So maybe that is where the time is going? That basically means that when I'm not taking care of L (aka most hours of the day), I'm sneaking in a little physical activity (mainly yoga, some walking and a couple of miscellaneous cardio workouts very, very infrequently), keeping myself fed (I think L is in the midst of a growth spurt and I'm super hungry all the time… yes, more than usual), and squeezing in a little downtime with Matt (that means no computer and limiting the phone) when I can. Oh yeah, and passing out early like it's my job. If I could, I'd be asleep at 8pm every night. It seems necessary for my sanity.
Now for this week's updates
Most popular recipe/blog post: The 30 Best Ice Cream Recipes to Make Without an Without an Ice Cream Maker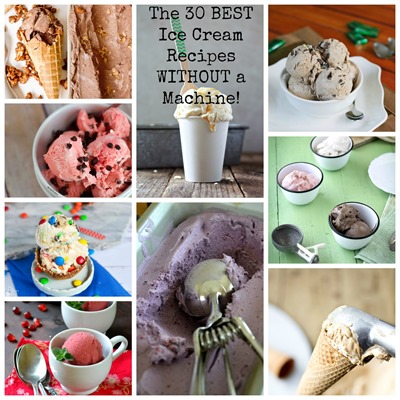 Three favorite things I pinned all week:
Guinness Cupcakes with Toasted Beer Marshmallow Meringue from Sprinkle Bakes
Tagalong Blondies from A Dash of Sanity
Marble Layer Cake from Zoe Bakes
I hope that you are all having a wonderful weekend!