There are so many reasons that I've been dying to make this pie for years.  One reason is that the original is truly the BEST blueberry pie I have ever had.
Mom, Jess, I think you can agree that it really is THE BEST!
But beyond that, there are memories.  Summers at the Jersey Shore.  4th of July spent with family at a time when everyone seemed to get along.  Hysterical laughter over the silliest things (namely my sister toasting to "having crabs" but I guess you had to be there).  The day Matt asked for permission to marry me (he was smart enough to include my dad, mom AND sister).  My complete oblivion to that while anxiously waiting for his proposal (we looked at rings together and then I proceeded to stare at an empty ring finger for two months wondering if he had changed his mind).  Hard shell crabs, corn on the cob, brownies, ice cream and of course the PIE.
I guess I should take a step back, huh?  Lollie is my grandfather's neighbor at the Jersey Shore.  For my whole life, my family would spend summer weekends (sometimes a lot, sometimes just a few) visiting my grandfather there.  And if we were lucky, Lollie would invite our entire family to join in on her huge 4th of July feast.  She had children and grandchildren galore, but adding our entire family (cousins, aunts, uncles, and so on) was never too much.  There were always plenty of hard shells to go around.  And if you are like me, and get too impatient to eat enough crab to fill you, there was dessert.  Year after year she made the BEST blueberry pie.
Well, finally, a few years ago, we asked Lollie for the recipe.  She said she was happy to share it, but somehow, that little piece of paper that was supposed to be delivered to us on the beach never made it.  I think she must have known that by keeping the recipe to herself, she would keep everyone coming back to her.  While I don't think I will ever turn down an invitation to come over and eat her pie, I have been determined to find something almost as good to make on my own.  So a few years ago I found this recipe online.  It seemed to fit the description of hers: Cook some of the blueberries but fold in the biggest, plumpest berries at the end.  Spread a little cream cheese filling over the super flaky crust.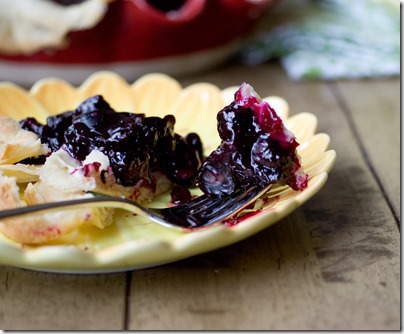 This might not be the pie, but it doesn't really matter.  It is symbolic of a moment in time, well, moments in time, that just make me smile.  Despite my discomfort at making pie crust (ahem, this blog is very light on pies), baking it just took me back to a time filled with joy.  And in case you were wondering, this pie is actually quite amazing.  I think Lollie would even approve.
For the recipe that seems to be pretty close to Lollie's blueberry pie, click here!  I didn't make any changes!
You might also like:
Blueberry White Chocolate Brown Butter Cookies
No Churn Blueberry Crisp Ice Cream