Healthy banana bread full of delicious vanilla roasted strawberries.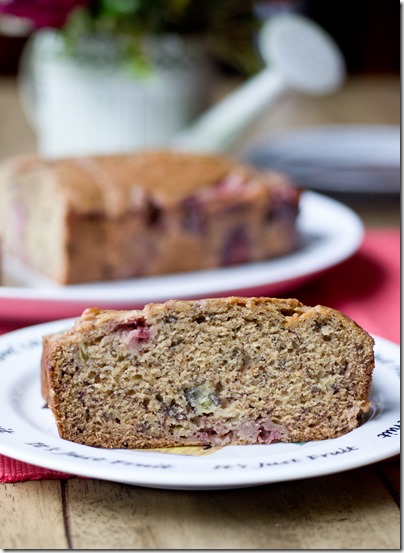 It's Tuesday but I feel like I am still recovering from the long weekend!  I think it has something to do with 13+ hours of driving for a two-day trip, dancing all night long at my cousin's wedding, and the hotel neighbors that found it necessary to blast music and yell at each other at 2am the night before we had a 6:30 departure time.  That's always fun.
But all in all, it really was a great weekend!  The highlight was being reunited with my dad's side of the family.  We realized that it has been about twenty five years since all of the cousins were in the same place at the same time.  There were seven of us then.  This time around, with marriages, and a new generation, there were twelve of us.  While there has been a lot of loss on that side of the family, it is a definite bright spot to see so many of us starting wonderful families of our own.  Hopefully the next time we all meet, it won't be so long from now and there will be even more of us.
I made this banana bread a few weeks ago when Matt's friends were in town.  There were a few extra brown bananas on the counter and I had a little baking marathon.  The banana bread wasn't as big of a hit as the blueberry pie, but it was a good healthy snack and breakfast addition.
The best part of baking this banana bread was the unbelievable aroma from roasting the strawberries.  Next time I'm going to roast extra berries and use them as an ice cream topping.  It was hard to put them right into the batter instead of eating them straight up!
Vanilla Roasted Strawberry Banana Bread that is Low Fat and Whole Wheat
Healthy banana bread full of delicious vanilla roasted strawberries. Source: Skinny Taste Makes 8 nice-sized slices
Recipe type:
Breakfast, Brunch
Ingredients
7 ounces (~1⅓ cup) sliced strawberries plus 1 teaspoon vanilla extract for roasting
6⅞ ounces (1¼ cups) white whole wheat flour
¾ teaspoon baking soda baking soda
¼ teaspoon salt
2½ ounces (~1/2 cup lightly packed) brown sugar
1 ounces (2 tablespoons) unsalted butter, softened at room temperature
2 x-large egg whites at room temperature
10½ ounces (~1 cup) mashed brown banana (~3 medium)
2 tablespoons unsweetened applesauce
1 teaspoon vanilla extract
Instructions
Roast strawberries; pre-heat oven to 350 degrees and line a baking sheet with parchment paper; set aside
Toss sliced strawberries with vanilla and spread out on prepared baking sheet
Roast in oven for 20 minutes
While strawberries are roasting, prepare rest of banana bread
Spray a loaf pan with non-stick cooking spray and set aside
In a medium bowl, whisk together dry ingredients (flour, baking soda and salt); set aside
In the large bowl of an electric mixer, beat butter and brown sugar until light creamy; add egg whites and mix on medium speed for a minute
Scrape sides of bowl; add banana, applesauce and vanilla; mix on medium speed until combined
Reduce speed to low and slowly add dry ingredients just until combined, do not overmix batter
Once strawberries are done cooking, gently fold them into batter; bake for 35-40 minutes or until a knife comes out clean from center of loaf
Allow to cool before removing loaf from pan
Best served immediately; store tightly wrapped in seran wrap up to 3 days at room temperature or freeze up to one month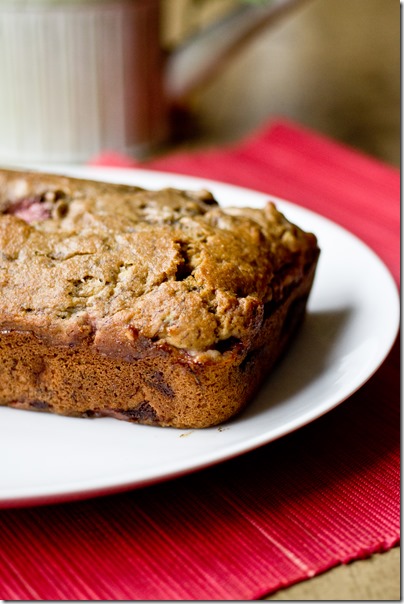 You might also like:
Healthy Blueberry Banana Bread
Brown Butter Chocolate Chip Quinoa Banana Bread