Magic: Possessing distinctive qualities that produce unaccountable or baffling effects
The ability for a pie to exist one minute and be gone the next, that seems like magic to me.
The ability for a dessert to call your name and whisper sweet words into your ear, I'd call that magic.
The ability for a dessert to sit on your counter one day and your butt the next, yes magic.
All of those elements make this cookie bar turned pie magic.
I'll be honest, I only like my version of magic bars. No coconut, no nuts, just gooey, chocolaty, chewy and delicious.  And so in my Magic Pie, that is what you get: graham cracker crust and a sweet oozing filling made up of dark chocolate, milk chocolate and toffee.  Don't tell me this doesn't pull at your sweet tooth for an extra slice bite.  I made this pie at about 3pm one afternoon… by midnight it was gone.  And here is a little secret, Matt thought it was too sweet.
I'll let you come to your own conclusions.
Start with a pre-made or baked graham cracker crust and pour sweetened condensed milk into the shell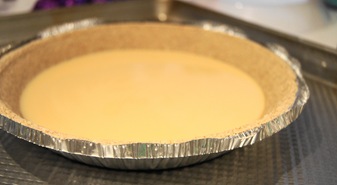 Arrange dark chocolate kisses
Sprinkle with toffee bits
Sprinkle on the milk chocolate chips
Bake for about 25 minutes or until filling appears set and has bubbled around the edges; allow to cool before slicing
[print_this]
Magic Pie
Next time I'm going to sprinkle pretzel pieces on top immediately after baking to add a salty crunch to the pie The Edy's slow churned Caramel Delight ice cream was the perfect complement to this pie
Yield: 6-8 slices
Ingredients
1 pre-made or baked 8-inch graham cracker pie crust
1 cup sweetened condensed milk (I used fat free)
21 dark chocolate Hershey kisses (~1 cup semi-sweet or dark chocolate chips would also work)
1/3 cup toffee bits
1/3 cup milk chocolate chips
Cooking Directions
Pre-heat oven to 350 degrees
Pour sweetened condensed milk into shell pie
Arrange dark chocolate kisses along on top of the milk
Sprinkle with toffee bits and milk chocolate chips
Bake on a baking sheet for about 25 minutes or until filling appears set and has bubbled around the edges
Allow to cool before slicing and serve with a scoop of ice cream
[/print_this]
Adapted from Magic Cookie Bars
I'll let you in on a secret- I didn't like the crust (that's what I get for using a healthier pre-made) so I left that behind and ate all some of the filling.  Have you ever picked out the parts of a dessert you like and gotten rid of the rest?