Happy Mother's Day to all of my mom and soon-to-be mom friends! I hope that all of you had a great weekend.  I spent a lot of time in the kitchen but also a lot of time outside.  The sunny and  warm weather makes me so happy.  Yesterday I got to take a long walk along the water with a good friend.  We caught up on life and it was wonderful.  Today we celebrated Mother's Day by grilling and eating outside with family.  The fresh air is like free therapy.
After the last chocolate cluster recipe I made, I knew I wanted to make another version.  They are so easy to whip up and so delicious.  Who doesn't love homemade candy filled with delicious mix-ins?  So in the midst of a baking marathon, I made some Oreo Mallow Clusters in a matter of minutes.  They are milk chocolate clusters filled with Oreos and marshmallows (or in my case Peeps).  And you know what? Huge success.  It figures that this 10-minute recipe turned out so much better than an overly complicated dessert I also made.
To make these, you will need some broken up Oreos
And chopped up Peeps (sorry bunnies)
And of course milk chocolate
Just melt your chocolate
Stir in the mix-ins
And drop clusters onto wax paper
Chill in the refrigerator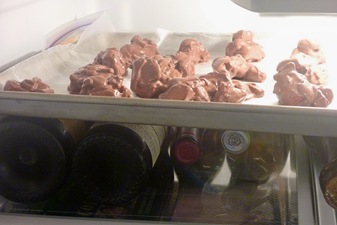 [print_this]
Oreo Mallow Clusters
Ingredients (Makes 15 clusters)
12 ounces high-quality milk chocolate
1 1/3 cups Oreo chunks (~8 Oreos)
2 cups chopped Peeps (~8 Peeps) or marshmallows
Instructions
Gently melt the chocolate in 30 second increments in a microwave-safe bowl, stirring in-between
Once chocolate is completely melted, add Oreos and Peeps and stir until completely coated
Use a tablespoon to drop large clusters of the mix on a baking sheet lined with wax paper
Chill chocolates in the refrigerator for 30 minutes or until candy is completely firm
Store chocolates in a cool place for up to 7 days
[/print_this]
P.S. The above picture was taken with my Dad's DSLR, what an amazing quality difference!  I am FINALLY getting one and hopefully my blog will be prettier very soon.
How was your weekend?  Is the weather getting better where you live?