Today was my first day back to real life.
The early morning alarm, a half-awake trip to the gym, and then that rush to shower, eat breakfast, pack lunch and basically race against the clock to get to the office on time.
I didn't like it. Did I spend the last three weeks recovering from extreme burnout? Yes. But unfortunately that didn't change the feeling of anxiety that weighed me down for the last precious hours of official vacation. The freedom that I felt through the end of the year with my email turned off and my responsibilities at the office on hold was incredible. There was definitely more smiling during that period of time than any other similar block of time over the last twelve months.
It isn't that I'm not happy in general, it's just that I usually put the stress of my job and even my company on my shoulders. I go home at night and think about the model that needs fixing, the capital that needs to be raised or the co-worker that doesn't get their work done. I think about the meetings that need to be scheduled, the emails that have to be sent and the trips that need to be booked. My old boss once told me not to care so much. He said, "don't take this the wrong way, but you care too much." He reminded me that I can only do what I can do and everything else is out of my control. It is just a job.
So as I get back to the usual routine I'll try to put aside that usual level of stress that I carry with me and just breathe. I'll take each day as it comes and put forth the work that makes me feel good and know that everything else will play itself out. And in the moments where I feel that sharp pain in the back of my neck I'll take a deep breathe, have a cup of tea and when all else fails eat some chocolate.
Oh right, that is what this blog is about! I made these muffins for my 15th (!!!) annual Christmas Eve brunch with my best friends from home and they were a huge hit. Chocolaty and moist like a muffin should be, but even better than that, they are on the lighter side, perfect for your New Years diet resolutions!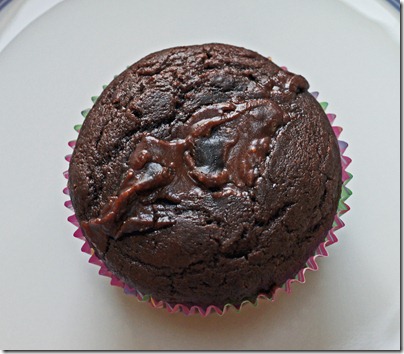 Triple Chocolate Muffins with a Peanut Butter Swirl
Makes 12 muffins

Ingredients:
1 3/4 cup all-purpose flour
1/2 cup packed light brown sugar
1/4 cup unsweetened cocoa powder
1 teaspoon baking powder
1 teaspoon baking soda
1/2 teaspoon salt
1 cup water, warm
1/4 cup canola oil
1 egg, lightly beaten
1 tablespoon red wine vinegar
1/3 cup mini semi-sweet chocolate chips
~1/4 cup chocolate peanut butter (such as PB & Co)
Directions:
Pre-heat oven to 350 degrees
Line a regular sized muffin tin with paper liners or spray with non-stick cooking spray; set aside
In a large bowl, whisk together all dry ingredients (flour through salt); set aside
In a medium bowl, whisk together wet ingredients (water through vinegar) and chocolate chips
Pour wet ingredients into dry ingredients and stir just until combined (there should still be some small lumps in the batter)
Pour batter into prepared muffin tin
Drop a teaspoon of peanut butter onto each unbaked muffin; use a toothpick to lightly swirl peanut butter around top of muffin
Bake muffins 12-14 minutes or until a toothpick comes out clean and muffin tops are firm
Allow muffins to cool a few minutes before removing from pan
Adapted from Cooking Light
On a separate note, my posts may be a little less frequent over the next several weeks.  Stick with me because good things are to come!