Fudgy brownie bites full of mini chocolate chips and topped with a pretty in pink marshmallow buttercream, perfect for Valentine's Day!
This weekend completely flew by!  I've had a lot going on lately (work-wise and personally) so I feel like my weekend relaxing and me-time is extra precious.  I know myself, and I really need to get a chance to refresh and recharge when possible to stay motivated and keep working hard.
This weekend was fun, though.  We celebrated my mother-in-law's birthday (which is today, happy birthday Marcia AND Sara!) by seeing Motown on broadway.  What a fun show! The music was fantastic and the entire thing was so entertaining.  Yesterday we went to a housewarming party for friends and brought these brownies.  It was so nice to see some of our friends and steal time with their baby.  She is an adorable 9-month old that is happy ALL the time. It is amazing.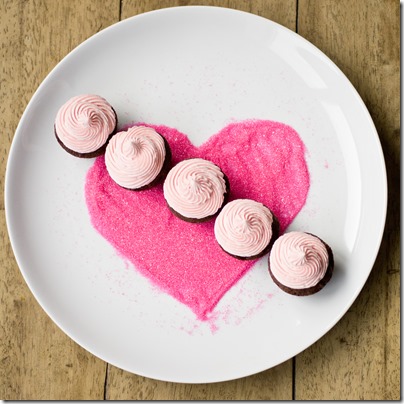 And these brownies?  What brownie doesn't do well with a little buttercream on top?  You could of course leave out the food coloring and eat them any time of year, but the pink is perfect for Friday's holiday.  If you do nothing else for Valentine's Day, I'm pretty sure that eating chocolate is required.
Mini Chip Brownie Bites with Pink Marshmallow Buttercream
Fudgy brownie bites full of mini chocolate chips and topped with a pretty in pink marshmallow buttercream, perfect for Valentine's Day!
Ingredients
Brownie Bites
3 ounces unsweetened chocolate
4 ounces (1/2 cup / 1 stick) unsalted butter
9 ¾ ounces(~1⅓ cups) sugar
2 large eggs  at room temperature
1 teaspoon vanilla
2⅞ ounces (2/3 cup) all-purpose flour
¼ teaspoon salt
3 ounces (~1/2 cup) mini semi-sweet chocolate chips
Pink Marshmallow Buttercream
6 ounces (3/4 cup / 1½ sticks) unsalted butter, softened at room temperature
7 ounces marshmallow fluff (1 small jar)
7 ounces (~1½)  cups powdered sugar
1 teaspoon vanilla extract
2 drops red food coloring (optional)
Instructions
Make the brownies
Pre-heat oven to 350 degrees
Grease or line mini muffin pan
In a small bowl, whisk together flour and salt; set aside
Melt butter and chocolate in large sauce pan over low to medium heat; stir in sugar; stir in eggs and vanilla until smooth
Whisk in flour mixture just until combined; do not overmix; fold in chocolate chips
Use a small ladle or medium cookie dough scoop to evenly distribute batter into muffin tin
Bake for 15-18 minutes, or until tops are puffed up slightly and knife comes out clean
Set brownies aside to cool
Make the buttercream
Beat butter with an electric mixer for several minutes or until light and creamy; add marshmallow fluff and beat on medium high speed until creamy
Add sugar, vanilla and food coloring; mix on low and then increase speed to high, mixing for several minutes until light and fluffy
Remove brownies from pan and pipe buttercream onto cooled brownie bites
Notes
Brownies can be stored in a covered container at room temperature up to two days or frozen up to one month
Brownie adapted from
Baker's
This post contains affiliate links.
You might also like: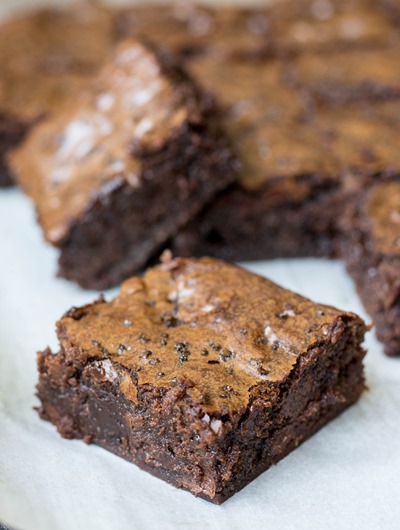 Espresso Salted Caramel Brownie Bites
Fudgy Double Creme de Menthe Brownies