These dark chocolate candy cups are filled with a delicious creamy buttercream. They are a gluten-free, no-bake treat for any occasion.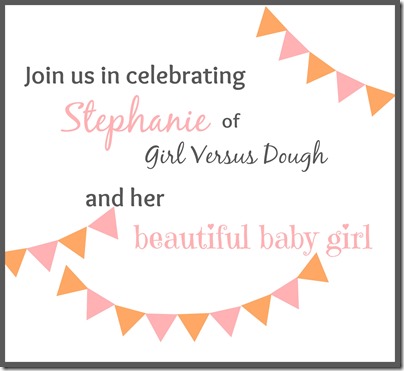 Today's post is exciting because I'm part of a huge group of blogging ladies celebrating Steph's virtual baby shower! This sweet and talented blogger is due to have a baby girl in just a few weeks and I am so excited for her. I've never met Steph in real life, but through talking online I already know what a kind, friendly and lovely person she is. Not to mention she is writing a delicious looking e-cookbook!
For the virtual shower, I went with one of my favorite party staples, a bite-size pickup dessert. I love small desserts at parties because they give guests the chance to try a little bit of everything. These candy cups are a new variation of the Mint Cookies and Cream Buttercream Cups I shared a few weeks ago. This version swaps the filling for a simple vanilla buttercream tinted in pink and perfect for a (girl) baby shower. Of course you could make them blue for a boy as well. I also left out the Oreos this time to keep them gluten-free and Passover appropriate (just in time!). I think this will be a nice treat to share at our seder on Tuesday night. Scroll down to see what treats everyone else is sharing!


Pretty in Pink Buttercream Cups
Makes 12 candy cups
Ingredients:
8 ounces good quality dark chocolate (I used 72%), roughly chopped
1/2 tablespoon unsalted butter
1 1/2 cups Vanilla Buttercream (replace food coloring with just 2 drops red food coloring); optional
Directions:
Line a mini muffin pan with 12 tin foil cupcake wrappers and set aside
Place chocolate and butter in a medium microwave safe bowl; melt by microwaving the chocolate and butter in 30-second increments and stirring in-between
Use a teaspoon to coat the bottom of each cup with melted chocolate; place muffin pan in fridge
Remove pan from fridge and pipe buttercream into center of each cup (about 1 tablespoon)
Spoon melted chocolate over buttercream and around edges so that coated on all sides
Chill for one hour in refrigerator before serving; store in refrigerator up to one week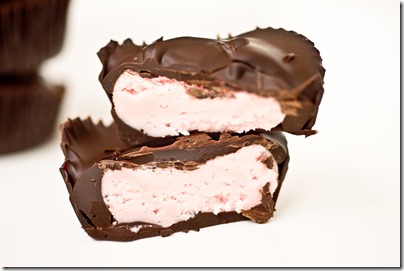 Don't forget to take a look at what the other bloggers are bringing to the shower!
Mini Strawberry Cheesecakes from Sarcastic Cooking
Lemon Blueberry Coffee Cake with Lemon Drizzle from Greens & Chocolate
Super Chewy M&M Blondies from The Realistic Nutritionist
Strawberry Cinnamon Twist Knots from A Kitchen Addiction
Lemon Shortbread with Salted Chocolate Drizzle from The Lemon Bowl
Chocolate Cherry Ice Cream from A Zesty Bite
Blackberry and Mango Curd Pie from Joanne Eats Well With Others
Pecan Sticky Buns from Warm Vanilla Sugar
Strawberry Rhubarb Muffins from Garnish with Lemon
Chocolate Chip Pancakes from Susie Freaking Homemaker
Super Simple Sugar Cookies from Espresso and Cream
Raspberry Acai Frozen Margarita from Nutmeg Nanny
Berry Coconut Frozen Yogurt from The Law Student's Wife
Pretty in Pink Buttercream Cups from Keep it Sweet Desserts
Broccoli Salad with Honey Toasted Walnuts from The Roasted Root
Neapolitan Baked Doughnuts from Climbing Grier Mountain
Giant Pink M&M and Raisinette Cookies from Steph's Bite by Bite
No-Bake Rhubarb Cheesecake Parfait Cups from Hungry Girl Por Vida
Strawberry Rhubarb Crisp from A Cedar Spoon
Freckled Strawberry Rhubarb Lemonade from Take a Megabite
Vanilla Anise Cupcakes from Blahnik Baker
Mini Vanilla Bean Layer Cakes from The Baker Chick
Mini Blackberry Hazelnut Meringue Cakes from Eat Your Heart Out