Over 30 delicious gluten-free desserts made with ingredients that are already in your kitchen!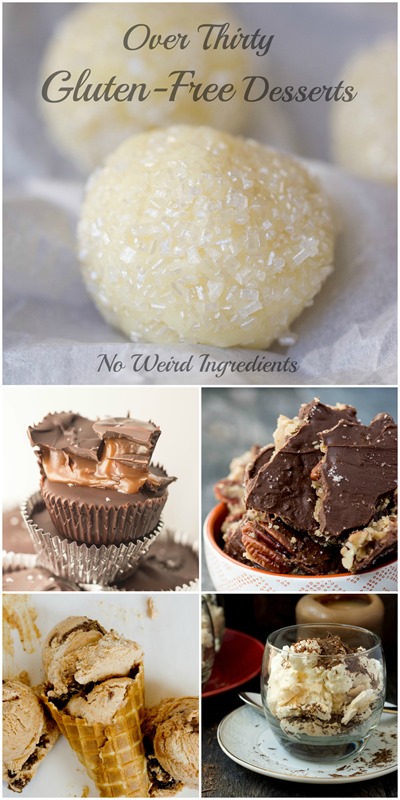 You probably have at least one friend who avoids eating gluten. And with new year's resolutions underway, they might be even more common. When you don't bake gluten-free recipes often, it can be intimidating to try to make one. Many recipes call for a variety of specialty flours or gums. While I've used almond flour and quinoa flour, I've never been motivated to invest in an array of gluten-free flours beyond that (and they can be expensive!). As a result, when baking for friends or family members who don't eat gluten, I stick with dessert recipes that are naturally gluten-free. This tends to be a successful strategy because as you can see below, there are still a ton of options.
One important note, though. If you are baking for someone who has a serious gluten-allergy, cross contamination of flours can be a serious issue. Make sure that your dishes, utensils and counter surfaces are completely clean and that all ingredients are specifically labeled gluten-free. Something like oatmeal, for example, is naturally gluten-free, but some brands may be made in facilities that are not completely gluten-free.
Cookies:
Flourless Chocolate Almond Butter Cookies
Specialty Desserts
Blackberry, Peach and Pistachio Crisp
Fall Pavlova with Caramelized Apples and Cinnamon Whipped Cream
Light-as-Air Banana Cheesecake
Peppermint Chocolate Pavlova Parfaits
Skillet Apple Crisp with Brown Butter Sauce
Ice Cream
Blueberry Chocolate Chunk Frozen Yogurt
Chocolate Chunk Banana Ice Cream with Fudge Ripple
Chocolate Ice Cream with Salty Candied Peanuts
Monster Cookie Dough Ice Cream
Peanut Butter Ripple Chocolate Ice Cream
Pumpkin Cinnamon Bun Ice Cream
Homemade Candy
Chocolate & Peanut Butter Lover's Bark
Pretty in Pink Buttercream Cups
Peanut Butter Caramel Candy Crack
Dips and Sauces
Brown Sugar Chai-Spiced Caramel Fondue
Looking for more? Some of my favorite gluten-free bloggers are:
This post contains affiliate links.