One week down and I'm feeling really good about this working from home thing.  I'm sure that some of the beginner's high will die down after a while, but I'm glad to be off to such a productive start!  Sure, I might have left out half of the baking soda in a cookie recipe and taken a batch of brownies out of the pan when they were still warm and too fragile to move, but it can't all be perfect.  The upside (or downside?) of baking mistakes is that I get to eat those batches.  Hmm, maybe I need to be a bit more careful or I'm going to have to start doing INSANITY multiple times a day!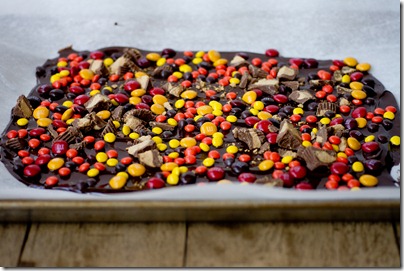 Speaking of baking mistakes, it seems that any time I make anything that requires melted chocolate for dipping I melt double or triple the chocolate I need.  A couple of weeks ago I found myself with a big bowl of melted chocolate and didn't want it to go to waste.  I quickly flipped through my drawers and found a few bags of candy that were due to be used up.  Lots of chocolate and lots of peanut butter but not too much for some candy fun!  You can find the recipe for this highly addictive Chocolate & Peanut Butter Lover's Bark on Fox!
Oh, and an exciting heads up!  The new website should be up by Monday so keep an eye out for the blog move.  I'll be keeping everyone updated via Twitter and Facebook, but any RSS or e-mail subscribers are going to have to re-subscribe once the move is complete.