Fudgy chocolaty brownie bites topped with an extra special buttercream are a fun mini dessert for any occasion.
Today we are celebrating one of my favorite people!  My friend Audra (The Baker Chick) is having a baby so a few of us got together to throw a virtual party.
I've actually been thinking about this for months.  Back in July over an afternoon coffee date, Audra told Jacqueline and I she was pregnant.  We both were so excited and immediately said we wanted to throw her a virtual baby shower.  Now here we are, months later, and it's almost time for Audra to have her baby boy!
I met Audra at the Foodbuzz Festival a couple of years ago.  Lucky for me, Audra also lives in New York so I get to see her somewhat regularly.  She is one of the friendliest and most genuine people I have met through blogging and I am so happy we are now real-life friends.  It came as no surprise to me when a couple of bloggers actually asked to join in  on the shower when they heard about it from other bloggers.  Everyone loves Audra:-)
I always like mini desserts for parties like showers where people are mingling and may want to sample a few different things.  Plus, Audra is the queen of salted caramel so I knew I had to incorporate it somehow.  I actually had picked up this Espresso Salt when I was in Boston and had been excited to finally use it for something sweet.  This felt like the perfect place.
And don't forget to see what the other bloggers are sharing for the shower!
Cocktails:
Grapefruit Rosemary and Sage Spritzer from Brandy
Small Bites:
Sausage and Cheese Wonton Cups from Erin
Honey and Tangerine Whipped Goat Cheese Crostini from Liz
Desserts!
Bananas Foster Cupcakes from Meriem
Chocolate-Caramel Tart with Sea Salt from Joanne
Chocolate Chip Oatmeal Cookies with Brown Butter from Katrina
Chocolate Mousse Mini Cupcakes from Jennifer
Cinnamon Nut Stuffed Persimmons from Gina
Coconut-Cream Meringue Cupcakes from Tracey
Espresso Salted Caramel Buttercream Brownie Bites from Lauren
Gluten-Free Cranberry Bread from Jacqueline
Mini Eggnog Bundt Cakes with Salted Caramel Icing from Kelli
Mini Gingerbread Whoopie Pies from Julie
Mini Vanilla Cupcakes with Peppermint Buttercream from Rachel
Sugar & Spice Layer Cake from Stephanie
Espresso Salted Caramel Buttercream Brownie Bites
Fudgy chocolaty brownie bites topped with an extra special buttercream are a fun mini dessert for any occasion.
Ingredients
For the Fudgy Brownie Bites
3 ounces unsweetened chocolate
4 ounces (1/2 cup / 1 stick) unsalted butter
9 ¾ ounces(~1⅓ cups) sugar
2 large eggs at room temperature
1 teaspoon vanilla
2⅞ ounces (2/3 cup) all-purpose flour
1 teaspoon instant espresso powder
¼ teaspoon salt
For the Espresso Salted Caramel Buttercream
8 ounces (1 cup / 2 sticks) unsalted butter, softened at room temperature
1 cup powdered sugar
¼ cup espresso salted caramel (see below, can substitute regular salted caramel if desired)
Instructions
Pre-heat oven to 350 degrees
Grease or line mini muffin pan
In a small bowl, whisk together flour, espresso powder and salt; set aside
Melt butter and chocolate in large sauce pan over low to medium heat; stir in sugar; stir in eggs and vanilla until smooth
Whisk in flour mixture just until combined; do not overmix
Use a small ladle or medium cookie dough scoop to evenly distribute batter into muffin tin
Bake for 15-18 minutes, or until tops are puffed up slightly and knife comes out clean
Set brownies aside to cool
For the Espresso Salted Caramel Buttercream
Beat butter with an electric mixer for several minutes or until light and creamy; add sugar and beat until light and fluffy
Beat in salted caramel until combined
Remove brownies from pan and pipe buttercream onto cooled brownie bites
Notes
Brownie adapted from
Baker's
Brownies can be stored in a covered container at room temperature up to two days or frozen up to one month
Espresso Salted Caramel
Ingredients
5⅝ ounces (~3/4 cup) granulated sugar
3 tablespoons water
4 fluid ounces (1/2 cup) heavy cream
1 fluid ounce (2 tablespoons) milk, any type
2-3 teaspoons espresso salt (to taste)
Instructions
Whisk the sugar and water in a medium heavy saucepan and cook over medium heat, stirring constantly until the sugar dissolves and mixture begins to boil
Let boil without stirring until the mixture becomes a deep amber color, watching closely so it doesn't burn
Quickly whisk in the cream (be careful; it will bubble up) and remove from the heat
Whisk in milk and sea salt and chill in refrigerator until ready to use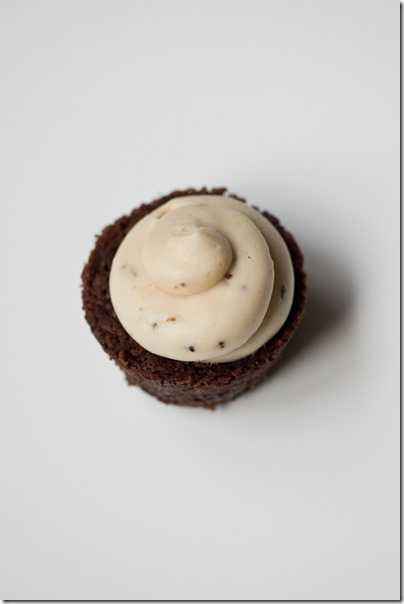 This post contains affiliate links.
You might also like:
Espresso Cookies with Salted Caramel Ganache
Fudgy Mocha Chip Brownies with Espresso Sea Salt
Espresso Salted Dark Chocolate Biscotti