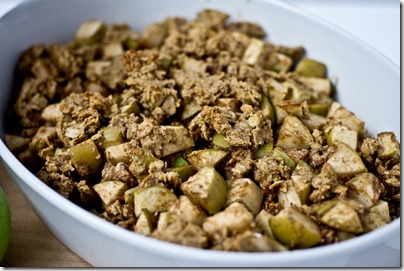 This past weekend, in the midst of browned butter muffins, goat cheese biscuits and that little eating fest called the Super Bowl, I decided I should bake something healthy for a change.  I know.  You just took a double take, didn't you?
The thing is, I generally eat really healthy and exercise like a maniac to balance out everything that you see here.  But sometimes, no matter how many salads I eat or how often I go to the gym, the cookies/cakes/cheesecakes/truffles…. they absorb me.  They take over my brain and haunt me around my waistline.  They call my name from the oven, the freezer, halfway to the trash.  It is a crazy hold they have over me that I can't quite explain. And on days or weeks like that, I try to trick myself. I put something in the oven that tastes good enough to be dessert but is wholesome enough for breakfast and for just a short moment, I am eating a treat that isn't going to force me into a sugar high and crash spiral.
This dish falls into that category.  I had in my mind that I was going to make apple cinnamon breakfast cookies and ended up with something completely different but delicious nonetheless.  Heavy on fruit and whole grains but low on sugar, this crumble is a great way to start the day.  Top a serving with a dollop of Greek yogurt for some extra protein.  Feel like having some for dessert? Scoop some frozen yogurt right on top of a warm bowl.
Not to worry, I'll be absorbed back into butter heaven momentarily.
Apple and Peanut Butter Oatmeal Crumble
Serves 8
Ingredients:
2 cups chopped Granny Smith apples (5 small apples or 2-3 large)
2 tablespoons Splenda or sweetener of choice
1 teaspoon cinnamon
1 1/2 cups rolled oats
1/2 cup whole wheat pastry flour
1 teaspoon baking soda
1/4 teaspoon salt
1/2 cup natural creamy peanut butter
1/2 cup egg whites
1 teaspoon vanilla extract
Directions:
Pre-heat oven to 350 degrees
Spray a 9 inch baking dish with non-stick cooking spray and set aside
In a medium bowl, combine apples, cinnamon and sweetener; set aside
In a large bowl, whisk together oatmeal, flour, baking soda and salt
Stir in peanut butter; it will be lumpy but that is okay
Stir in egg whites and vanilla
Stir in apples; there will be a high proportion of apples to batter
Spread mixture into prepared baking dish and bake for about 30 minutes or until top is firm and apples are tender
Serve warm for breakfast with Greek yogurt or dessert topped with frozen yogurt
Keep leftovers refrigerated for several days and re-heat before serving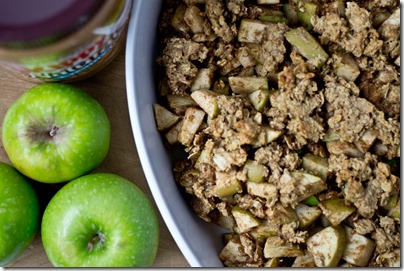 How do you trick yourself out of eating a full batch of brownies?