This week has been full of ice cream but I'm sending you off on a long weekend with a real bang – I made something frozen and delicious and dare I say it…. healthy!  This frozen yogurt is full of great things like nonfat greek yogurt and blueberries, but even better than that it is full of flavor.  In an effort to kick off summer eating dessert while having clothes that fit I'll be filling up on lots of this yogurt over the next few weeks.  While blueberry and chocolate are one of my favorite combinations, I see many more flavors happening very soon.
So many of you have left me extremely supportive comments, facebook messages, tweets and Instagram notes over the last few weeks and it is just so overwhelming.  I know a lot of you are curious as to what is going on behind the scenes with my business.  I'm thinking about posting a "day in the life" if that interests you.
As for how things are going… I am pleased to say that I couldn't be happier.  The site launched just over two months ago and already I've processed over 100 online orders, catered several events, provided favors and gift fillers to a few different people and delivered desserts to a TV show's cast and crew.  In the few moments that I'm not baking, I'm networking and  and strategizing ways to grow the business.  When I'm not doing either of those things, I'm brainstorming new recipes for the blog, Seasonal Desserts and Cookie of the Month Club.
The best part of everything has been the feedback that Keep It Sweet Desserts has received thus far.  It seems a bit silly that I am still nervous every time I send a package or deliver an order, because people are really loving my sweets.  While there has been a little bit of PR, most of the business so far is word of mouth.  Many customers are those who have received a box of cookies as a gift and are now passing on the sweets to someone else.  I could not ask for much more satisfaction than that.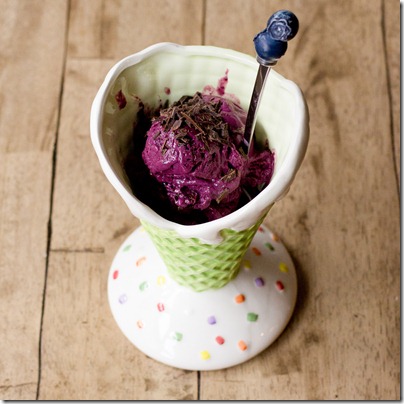 Thank you again for being there for me through all of this!
Get the recipe for Blueberry Chocolate Chunk Frozen Yogurt here!