An ice cream cake with all the important components of the classic Drumstick treat!
You didn't think I'd let National Ice Cream Month pass without a new ice cream related recipe on the blog, did you? Please, I wouldn't dare! Actually, I almost forgot, but last week I finally got around to making this pretty epic ice cream cake.
This cake was entirely inspired by the Drumstick cake that Kristan made a couple of months ago. As soon as I saw it I knew I had to do an ice cream version and I'm so glad that I finally did!
This ice cream cake uses one of my favorite chocolate cake recipes (I wanted something on the fudgier side), store-bought vanilla ice cream (homemade would be even better), rich chocolate ganache (the unexpected mvp?), and a mix of crushed peanuts and ice cream cones. So much good stuff, such a good cake. I keep on cutting myself massive slices and rationalize that I won't be burning breastfeeding calories forever so I might as well live it up.
So I realize that the recipe looks long, but it really isn't all that hard. It just takes a little bit of planning ahead for freezer time and you can actually do 90% of the work while your chocolate cake is baking / cooling. As a mom of a 9-month old that does not stop moving and climbing and crawling, I have to do my baking during naps. I actually did the ice cream and cake prep one day and then finished everything else plus took photos the next. Poor little L doesn't know what he's missing while he sleeps!
Drumstick Ice Cream Cake
Fudgy Chocolate Cake Barely adapted from Sticky, Chewy, Messy, Gooey Make ahead note: chocolate cake can be made and frozen for up to two weeks before putting cake together
Ingredients
1 recipe for fudgy chocolate cake (see below)
½ gallon vanilla ice cream
1 recipe for chocolate ganache (see below)
62g (~1½ cup crushed) ice cream cones (5 cones) plus one optional additional cone for decoration
90g (~3/4 cup) chopped peanuts (use salted and roasted for the most flavor)
56g dark chocolate (I used 72%) roughly chopped (optional for decorating)
Instructions
Bake cake according to below directions and do the following steps while cake layers are cooling
Line a 9-inch cake pan with seran wrap and press ice cream down into pan; cover completely and then put this layer in the freezer until firm, about 1 hour
Combine crushed ice cream cones and peanuts and set aside
Make chocolate ganache and set aside to cool
Optional: Place dark chocolate in small heat-safe dish and melt by microwaving in 30-second increments and stirring between each; dip open end of cone into chocolate and coat with spoon so that a some of the outside of the cone is covered; sprinkle with peanut and cone pieces and then set aside on wax or parchment paper to dry
Once cake has cooled completely, you will start to put your full cake together (do these steps quickly)
Place first layer of cake down on a cake plate; top cake with unwrapped ice cream layer; top ice cream with second layer of cake and press down lightly
Cover cake with saran wrap and re-freeze until ice cream is frozen again, about 20 minutes
Once cake has frozen, remove from freezer to finish
Remove seran wrap and spread ganache over top of cake with some dripping down the sides
Coat sides of cake with chopped cone and peanut mixture
Place entire cake back in freezer to chill for one hour or until ready to serve
Optional: Place decorated ice cream cone on top of cake for serving
Allow a few minutes for cake to soften before slicing
Store in freezer for up to two weeks
Fudgy Chocolate Cake
Ingredients
43g (~1/3 cup) good quality dark unsweetened cocoa powder
1g (1 teaspoon) instant espresso powder
112g dark chocolate (I used 72%), roughly chopped
240 milliliters (1 cup) ounces boiling water
10 milliliters (2 teaspoons) vanilla extract
227g (1 cup) unsalted butter, softened at room temperature
232g (~1 cup, tightly packed) light brown sugar
210g (~1 cup) granulated sugar
150g (~3 large) whole eggs, at room temperature
246g (~2¼ cups) cake flour
5g (1 teaspoon) baking soda
4g (1/2 teaspoon) salt
240 millilters (1 cup) buttermilk
Instructions
Pre-heat oven to 350 degrees
Grease and flour two 9-inch round pans and line bottoms with parchment paper
In a medium heat-proof bowl, combine the cocoa powder, espresso powder and chocolate; pour boiling water over mixture and whisk together until melted and smooth; stir in vanilla; set aside to cool
In the large bowl of an electric mixer with paddle attachment, beat butter until light and creamy; add sugars and beat on medium speed until light and fluffy; add eggs, one at a time, mixing at medium speed between each
Sift cake flour, baking soda and salt into a medium bowl and set aside
Whisk buttermilk into cooled chocolate mixture
Add about ⅓ of the flour mixture to mixing bowl and mix on low speed just until combined; add half of chocolate mixture and mix on low again, just until combined; scrape the sides of the mixing bowl and repeat with ⅓ of flour mixture remaining chocolate mixture; remove bowl from mixer and fold in remaining dry ingredients; be careful not to overmix the batter
Pour batter into prepared pans and bake for 30-35 minutes or until a toothpick comes out clean from center of cakes
Set cake layers aside to cool for 10 minutes then carefully remove each layer from pans; run a knife around the edge of each layer for easier removal
Allow to cool completely before building cake
Notes
Barely adapted from
Sticky, Chewy, Messy, Gooey
Make ahead note: chocolate cake can be made and frozen for up to two weeks before putting cake together
Chocolate Ganache
Ingredients
225g dark chocolate (I used 72%), finely chopped
237 milliliters (1 cup) heavy cream
28 g (2 tablespoons) unsalted butter at room temperature
30 milliliters (2 tablespoons) light corn syrup
Instructions
Put chocolate in a heatproof bowl and set aside
Put remaining ingredients in a heavy saucepan and place over medium-high heat; stir constantly until butter is melted
When cream mixture comes to a boil and bubbles begin to rise on entire surface, remove from heat and pour over chocolate
Allow chocolate to sit for one minute then stir to combine until smooth and creamy
Allow to cool before using on ice cream cake
You know you want that slice.
This post contains affiliate links.
You might also like:
No Churn Chocolate Ice Cream with Salty Candied Peanuts
Sublime Peanut Butter Cup Ice Cream Pie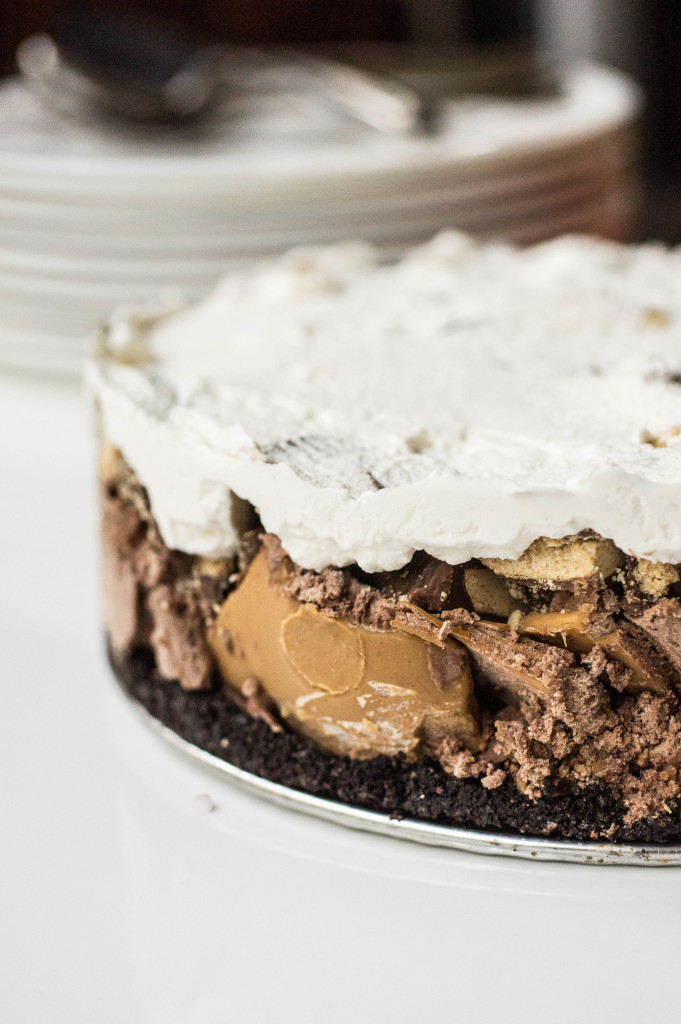 Fudgy Brownie Crunch Banana Ice Cream Pie