Well, I'm pretty much at that point before vacation where I'm in a little bit of denial about how much I need to do beforehand.  Lots and lots and lots of cookies need to be made and my head is already in a world where the sun is shining and I have a tequila infused cocktail on my hand.
Never mind that I am freaking out a little bit about being away from the kitchen for a week, no biggie.  I'll just keep pushing that worry to a place in the far corner of my brain!  Who needs stress and anxiety when I can get excited about hiking, beaches, tacos and the sun.  We are heading west for a glorious 7 days in San Diego and I couldn't be more excited.  While the rest of the world relaxed during Thanksgiving, Christmas and New Years, my vacation time is now revolving around Hallmark holidays.  I hoped/am hoping that saving my days off for after Valentine's Day proves to be a good move.
My lists of places to visit and explore and places to eat is nice and long thanks to the help of Krissy and Kathy, but if you have anything to add to the list, all suggestions are welcome!  I've only been to San Diego once for a couple of days as a teenager and Matt has never been.  Good thing we are very good at packing copious amounts of eating into our trips!
But before I go, I couldn't leave without sharing a sweet recipe with you.  Mini cupcakes are one of my favorite treats because the ratio of buttercream to cake is just so much better than the regular sized version, and mini means you can eat many of them, right?  The bonus? This Cookies 'n Cream cupcake was a serious hit and my husband, who has recently been deemed the "Oreo expert" of our apartment, gave them firm approval.
Mini Cookies 'n Cream Cupcakes
Mini cupcakes full of Oreos in the cake AND the buttercream.
Ingredients
Cupcakes:
5¾ ounces (~1 cup plus 2 tablespoons) all-purpose flour
2 tablespoons cornstarch
1¼ teaspoon baking powder
⅛ teaspoon salt
5⅝ ounces (~3/4 cup) granulated sugar
2 large eggs (or 1 x-large egg plus 1 yolk) at room temperature
½ tablespoon pure vanilla extract
2 ounces (4 tablespoons) unsalted butter, melted
¼ cup vegetable oil
½ cup milk at room temperature (I used skim)
½ cup cup roughly chopped or broken Oreos (~4 cookies)
Buttercream:
6 ounces (3/4 cup) unsalted butter, softened at room temperature
4 ounces regular or light cream cheese
2 cups powdered sugar
1 teaspoon vanilla extract
¼ cup finely ground Oreo crumbs (~3 cookies)
Instructions
Cupcakes:
Pre-heat oven to 350 degrees
Line a cupcake pan with cupcake liners or grease the cups with butter or non-stick cooking spray; set aside
In a medium bowl, whisk together flour, cornstarch, baking powder and salt; set aside
In the large bowl of an electric mixer, beat the sugar, eggs and vanilla on high speed for about 3 minutes or until mixture is well combined and thick
Add butter and oil and beat on high until well combined; scrape sides of the bowl with a spatula and mix for another minute
Reduce the speed to low and add ⅓ of the dry ingredients and then ½ milk; add another ⅓ of dry ingredients and remaining milk; add remaining dry ingredients and remove from mixer immediately
Use a spatula to incorporate any dry ingredients that have are not fully combined; distribute batter evenly among cupcake cups with a ladle or ice cream scoop
Bake in center of oven for 12-16 minutes or until a toothpick comes out clean
Allow cupcakes to cool for several minutes and then remove from tin and place on cooling rack; set aside and prepare buttercream
Buttercream:
Beat butter and cream cheese in the bowl of an electric mixer with the paddle attachment on high speed for several minutes until butter is light and creamy
Add 1 cup of powdered sugar and mix on low speed until combined; add remaining powdered sugar and vanilla and increase speed of mixer to high and beat until frosting is light and fluffy
Stir in Oreo crumbs until evenly distributed
Pipe or spread onto cooled cupcakes as desired
You might also like:
No Churn Oreo Fudge Swirl Ice Cream
3-Layer Cookies and Cream Cake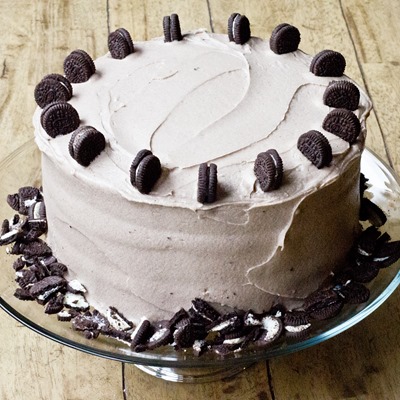 Oreo Pound Cake with Chocolate Cream Cheese Icing