I have so much I want to say and tell you about what is going on here at Keep It Sweet Desserts, but my thoughts are coming through in a pretty chaotic stream of consciousness so I'll hold off until things calm down a bit!
For now, though, I can say, I am SO happy I planned ahead and sent out my Food Blogger Cookie Swap packages early this year.  If I had waited, my cookies would have been who knows what and my photos rushed and blah.  I took these photos a few weeks ago when I was enamored with the wonderful chew in the cookie and fragrant aroma coming out of my kitchen.  For the swap, I wanted to make something that combined some of my favorite elements of a cookie, chew and salt.  While the brown butter flavor was only slightly apparent in the final product, the texture of these cookies and overall taste more than made up for that.  I sent my cookies to Angie, Crystal, and Michelle, I just hope they agreed!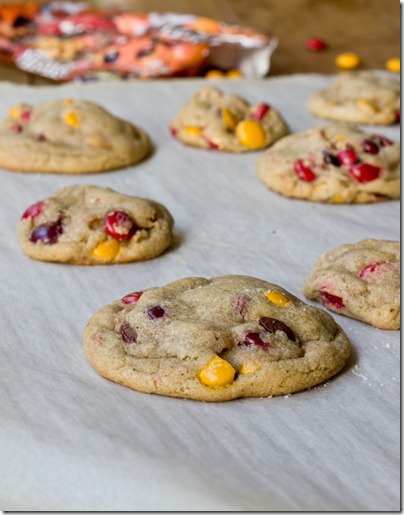 And of course I enjoyed receiving cookies in the mail for myself (such a nice change of pace!) from some wonderful bloggers.  Caroline (who I already adore) made wonderful florentines.  I was so impressed that she packaged them without them breaking at all!  Felice sent great Rosemary Lemon Shortbread cookies, the smell was amazing!  And finally, I got some terrific Cherry Chocolate Pecan Oatmeal Cookies from Cher.  What better way to find new blogs than by exchanging cookies?!
Salted Brown Butter M&M Cookies
Makes:
2 dozen medium-sized cookies or 1 dozen large cookies
Ingredients
½ cup (1 stick) unsalted butter, softened
1⅞ ounces (1/4 cup) granulated sugar
5½ ounces (2/3 cup) packed light brown sugar
1 x-large egg at room temperature
1 teaspoon vanilla extract
7 ounces (1½ cups) all-purpose flour
½ teaspoons baking soda
½ teaspoon salt
1 cup M&Ms
Sea salt for sprinkling
Instructions
Brown the butter: Heat butter in a small heavy saucepan over medium heat, stirring constantly, when butter turns to an amber/light brown color, remove from heat immediately (You should be able to smell the deeper more caramel flavor of the butter) pour browned butter immediately into a small bowl and set aside to cool
Once butter has cooled, place in the large bowl of an electric mixer with sugars; beat on high speed until well combined
Add egg and vanilla, mix on medium speed until well mixed
In a separate medium-sized bowl, whisk together flour, baking soda and salt; slowly add to wet ingredients with mixer on low speed; do not over mix
Slowly stir in M*Ms
Chill dough for 24 hours for best results (minimum of 2 hours) before baking
When ready to bake,pre-heat oven to 350 degrees; line baking sheets with parchment paper and set aside
Scoop cookie dough with a medium (~2 tablespoons) or large (~4 tablespoons) cookie dough scoop on to prepared baking sheets
Bake cookies until firm: 7-8 minutes for medium and 9-10 minutes for large
Allow to cool before serving
Oh, and want to know what's keeping me busy lately?  Mostly this, a ton of this, and quite a bit of this.  Yes, I may or may not be turning into an actual baked good.
You might also like:
Peanut Butter Cup Heath Bar Brown Butter Cookies
Gluten-Free Brown Butter Chocolate Chip Cookies
Brown Butter Chocolate Chunk Cookie Cake