Every December, I like to see what blog posts you enjoyed the most and compare them to my favorites. There are usually a few surprises but definitely some that I agree with. Scroll down to see the most popular recipe posts of 2014 and take a look at which I loved the most.
The ten most visited recipe posts from 2014:
10.  (Fresh) Cranberry Chocolate Chunk Brown Butter Cookies—Definitely one of my favorite cookies, too
9.  Gluten-Free Pumpkin Muffins (gf)—A good excuse to eat pumpkin year round!
8.  Chocolate Truffles, Three Ways (gf)—Who doesn't like truffles?
7.  No Churn Cookie Butter Ice Cream – My friends, Matt and I all loved this
6.  Peanut Butter Oatmeal Cookie Dough Balls – Who doesn't love a healthy-ish no-bake treat?
5.  How to Make Salted Caramel Without a Candy Thermometer (gf)– Definitely one of the most useful (and important???) posts on the blog!
4.  Salted Caramel Oreo Bars – I'm not surprised, these are so easy and I've made them a few times!
3.  Mixed Berry Sauce (gf) – An all around great recipe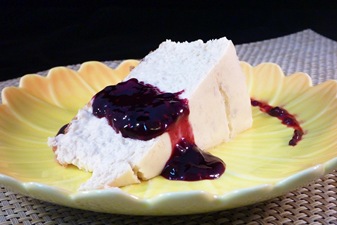 2.  Pink Champagne Cake Pops– It doesn't get more festive than this
1.  Easy Low Fat Pumpkin Sheet Cake– Just a few ingredients and voila!
My ten favorite recipes from 2014:
10.  Skillet Apple Crisp with Brown Butter Sauce (gf)—Brown butter sauce, need I repeat myself?
9.  Double Dip Mints (gf)—I may or may not have eaten the whole batch myself
8.  Cinnamon Roll Blondie Bites—One word: addicting.
7.  Oreo Overload Cookie Sandwiches—Definitely one of Matt's favorite cookies, who can blame him?
6.  Fudgy Black and White Devil's Food Cake—I made this for my mom's birthday in March and she hasn't stopped mentioning it since!
5.  Pumpkin Cinnamon Bun Ice Cream (gf)— I got on a huge ice cream kick over the summer and this was one of my favorites!
4.  Peanut Butter and Jelly Cupcakes—The cake, the filling, the frosting… all perfection!
3.  Roasted Butternut Squash Pie with Brown Sugar Marshmallow Topping—My sister, the pie lover, dubbed this the BEST pie she had ever eaten
2.  New York Crumb Cake Ice Cream— Not only was this ice cream unbelievable, but it was SO easy to make. No-churn recipes are the best!
1.  Giant Caramel Apple Cinnamon Bun with Cream Cheese Glaze—This was worth all the extra clean up because it was one of the best things I've ever made
Merry Christmas and Happy New Year, everyone! Cheers to a 2015 full of many, many delicious sweets!
The Top Keep It Sweet Desserts of 2013
The Top Keep It Sweet Desserts of 2012
The Top Keep It Sweet Desserts of 2011