As if moist pumpkin cupcakes weren't enough, I filled them with a luscious caramelized white chocolate ganache and topped them with caramelized white chocolate buttercream. 
These cupcakes are easily one of my favorite recipe creations in the entire life of the blog.  I'm not the biggest cupcake lover (I'd rather have layer cake), so when I have cupcakes, they have to be extra special.
These Pumpkin Cupcakes do not disappoint.  They are flavorful and extremely moist.  And thanks to the caramelized white chocolate (hello new favorite ingredient!), they are unique, over-the-top and pumpkin-neutral-husband approved.
Before you scroll down for the recipe, I'm going to warn you; they are time consuming.  The recipe is, to put it lightly, lengthy.  You have to make caramelized white chocolate, cupcakes, ganache filling and buttercream.  For someone who spends all of their time in the kitchen, they took me a few hours from start to finish (so for most people they are likely an all-day project).  It was baking therapy at its finest, though, and the result was hands down worth every second of baking and dishwashing.
Just look at the inside of the cupcakes!  The cake actually absorbs the liquid gold caramelized white chocolate ganache so the cupcakes completely melt in your mouth.  This is not a dessert for the faint of heart.  I recommend saving them for a quiet day in the kitchen and then serving them as the keynote dessert at your dinner party.  They are certainly worthy of a spot on the Thanksgiving table as well.
Caramelized White Chocolate Truffle Pumpkin Cupcakes
Makes 18 cupcakes
Ingredients:
1 batch Pumpkin Cupcakes (recipe below)
1 batch Caramelized White Chocolate made with 12 ounces good quality white chocolate (see note below)
1 batch Caramelized White Chocolate Ganache (recipe below)
1 batch Caramelized White Chocolate Buttercream (recipe below)
Directions:
Prepare caramelized white chocolate; upon completion, immediately use ½ cup to make Caramelized White Chocolate Ganache; set aside to cool and make cupcakes
Bake Pumpkin Cupcakes as directed below; allow to cool for one hour
When cupcakes are completely cool, use a small paring knife to cut about one teaspoon out of top center of cupcake
Fill whole of cupcake with a teaspoon of ganache and repeat with remaining cupcakes (refer to this blog post on stuffing cupcakes for tips and photos)
Prepare Caramelized White Chocolate Buttercream as directed below; pipe or spread buttercream over suffed cupcakes
Store cupcakes in a covered container up to three days (best within 24 hours of making)
Pumpkin Cupcakes
Adapted from an Autumn Day's Cake in an old Gold Medal magazine
Ingredients:
4 ¼ ounces (~1 1/8 cups) cake flour
¾ teaspoon baking soda
½ teaspoon baking powder
½ teaspoon ground cinnamon
¼ teaspoon ground cloves
¼ teaspoon salt
5 ounces (10 tablespoons / 1 ¼ sticks) unsalted butter, softened at room temperature
4 1/8 ounces (~½ cup packed) brown sugar
3 ¾ ounces (~½ cup) granulated sugar
1 x-large egg + 1 x-large egg white OR 2 large eggs at room temperature
1 cup canned pumpkin (NOT pumpkin pie filling)
½ teaspoon pure vanilla extract
Directions:
Pre-heat oven to 350 degrees and line regular-sized cupcake tins with cupcake wrappers; set aside
In a medium bowl, whisk together cake flour, baking soda, baking powder, cinnamon, cloves and salt; set aside
In the large bowl of an electric mixer, beat butter and sugars on medium-high speed, scraping bowl occasionally, until light and fluffy
Beat in eggs, one at a time, beating after each addition on medium speed
Add pumpkin and vanilla and mix on medium speed until well combined
Carefully add flour with mixer on low speed, mix just until combined; do not overmix
Evenly distribute batter into 18 prepared cupcakes, filling about 2/3 of each cup
Bake 13-15 minutes or until a toothpick comes out clean from center of cupcakes
Set aside to cool
Caramelized White Chocolate Ganache Filling
Ingredients:
½ cup prepared caramelized white chocolate* out of the oven
¼ cup + 2 tablespoons heavy whipping cream
Directions:
Place caramelized white chocolate in a heat-proof bowl
In a small heavy-duty saucepan, bring cream to a boil over medium-high heat; allow to boil for thirty seconds (entire surface will start to bubble)
Remove from heat and pour over caramelized white chocolate; allow to sit for thirty seconds to one minute
Whisk ganache ingredients until caramelized white chocolate has melted and ganache is smoothe
Allow to cool at room temperature for about an hour before filling cupcakes
Caramelized White Chocolate Buttercream
Ingredients:
8 ounces unsalted butter, softened at room temperature
1 ½ cups powdered sugar
½ cup prepared caramelized white chocolate (at room temperature; can be prepared ahead of time)
Directions:
In the large bowl of an electric mixer with a whisk attachment, beat butter on medium high speed until creamy (one or two minutes)
Add powdered sugar and mix on low speed for one minute; scrape the sides of the bowl with a spatula and mix on medium-high speed for two minutes
Add caramelized white chocolate and beat on medium-high speed for three minutes or until buttercream is very creamy and light
Recipe Notes:
This is a more time intensive recipe because you will need to prepare caramelized white chocolate for the filling and the buttercream but I promise, it is entirely worth it; save the project for a fall or winter weekend inside
The cupcakes are moist enough that they don't quite need a filling, so if you want to leave the ganache out they will still be delicious, just not AS delicious
*Directions on how to make Caramelized White Chocolate can be found here and here.  For the full cupcake recipe, use 12 ounces of white chocolate and 1/2 teaspoon of sea salt
Matt thought these cupcakes could use a bit of crunch.  I really liked that perfect melt-in-your mouth bite of cupcake, but if you want to add a little something something, may I suggest this Ginger Cookie Pecan Brittle?
Make ahead tips:
You can bake the Pumpkin Cupcakes up to one month ahead of time, just freeze them until a couple of hours before stuffing with ganache
*Caramelized white chocolate can be made ahead of time and stored in an air-tight container at room temperature up to one month; roughly chop what you will use for the ganache and then follow ganache instructions above
Buttercream can also be made and frozen for up to one month; just defrost in refrigerator for several hours until ready to use; it may need to be re-whipped for best results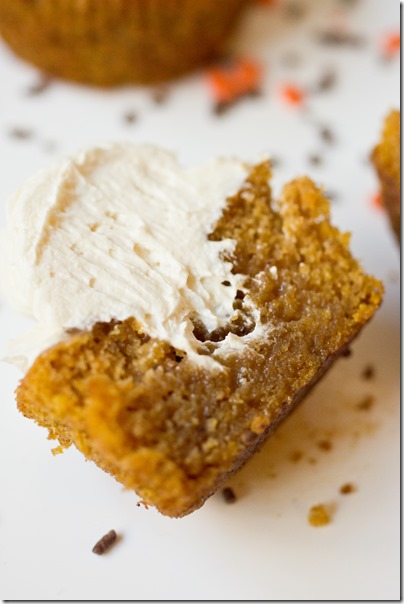 Stay tuned for an upcoming post with more caramelized white chocolate love.